Resource Description
About the George S. Parker Map Collection
Enlarge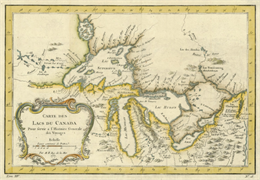 Carte des lacs du Canada, 1757.
Great Lakes region of the United States and Canada. George S. Parker Map Collection. View the original source document.
The George S. Parker Map Collection contains supurb examples of the the most significant maps related to New France and French exploration of the Great Lakes, early maps of Florida and Mexico, and later maps of Wisconsin. George S. Parker, former CEO of the Parker Pen Company, acquired most maps between 1975 and 1986. Parker also collected colonial American art and furniture. He intended his collection to be valuable for scholars as well as the general public. The collection is on long-term loan from the Caxambas Foundation of Milwaukee.
How the George S. Parker Maps Are Organized
Online
All 58 maps area available for viewing online.
View online maps from the George S. Parker Map Collection.
The maps were digitized at extremely high resolutions to create images that faithfully reflect the original colors and papers.
29 maps of New France
5 maps of Mexico dating 1660-1668
4 maps of Florida
19 maps of Wisconsin during the 19th century
Physical
Meticulous reproductions of all 58 maps are available for viewing in the Society's Archives.
About George S. Parker
George S. Parker (1929-2004) was CEO of the Parker Pen Company from 1952-1986. His grandfather co-founded the company in Janesville, Wisconsin, in 1891. The history of the company, including marketing, advertising strategies, innovations and successes, can be found in the Society's Archives: Oral history interview with George Parker [sound recording], 2001.
Parker's passion for early maps led to two publications. He described his collecting in an essay printed in "Maps of Encounter: The French in Seventeenth-Century Wisconsin," a 24-page exhibit catalog published by The Wisconsin Academy of Sciences, Arts, and Letters in 1995. He was also the author of "The Mapping of the Great Lakes," published in 1989 by the John Carter Brown Library.
Checking Out Materials
The George S. Parker Maps are non-circulating and must be used at the Society's Library or Archives.
Purchasing Copies
Photocopies of documents in the physical collections are available for a fee.
How to Cite
Bibliographic data will appear below each online document. Copy and paste the bibliographic data into your preferred citation manager.
Rights and Permissions
Digital maps on the Wisconsin Historical Society website may be printed or downloaded at no cost for nonprofit educational use by teachers and students, or for private use by individual researchers. Nothing may be reproduced in any format for commercial purposes without prior permission from the Wisconsin Historical Society.
Have Questions?
Contact our Library and Archives staff by email.