Historical Essay
Benjamin Butts (1853-1930)
One Man's Journey from Slavery to Madison Business Owner to State Assembly Staff Member
Enlarge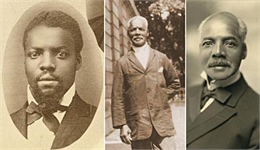 Benjamin Butts, (circa 1853-1930)
Benjamin Butts (circa 1853-1930) was an 11-year-old slave when Wisconsin soldiers occupied his hometown near Petersburg, Virginia, in 1864. Source: WHI-45152, WHI-45153, WHI-45156
Every February during Black History Month we celebrate African-American leaders and heroes. But what was life like for post-Civil War black people who didn't become famous? Read the fascinating story of one Wisconsin man's journey from slavery to business owner to State Assembly staff member.
From Bondage to Freedom
Benjamin Butts (circa 1853-1930) was an 11-year-old slave when Wisconsin soldiers occupied his hometown near Petersburg, Virginia, in 1864. He hung around their camp, as many displaced ex-slaves did. When Col. Thomas Allen of the 5th Wisconsin Infantry asked Benjamin if he would like to do light chores, he leaped at the chance.
When the regiment returned home to Wisconsin, Bennie (as he was known) did too. He went to Richland Center with Maj. Cyrus Butt. Like most former slaves, he had no surname of his own, so he adopted the major's. His former comrades found work for him to do until he was old enough to live on his own.
In about 1870 Butts moved to Madison. The city had very few black residents at that time, and prejudice was universal. Personal services like shaving and cutting hair were among the few vocations open to African Americans. Bennie worked as a porter and a clerk before finding a job in a barber shop.
Tending to Madison's Elite
In 1872, while still a teenager, Butts opened his own barber shop at 5 Pinckney Street, across from the Capitol. "He shaved daily many notables from the Capitol," recalled a journalist years later. "Governors Rusk, Washburn, Taylor, Smith, Fairchild and Peck were among his best customers." For 28 years he tended to Madison's elite, and his intimacy with them led to moonlighting opportunities. In 1877, for example, in addition to running his own shop, he also held a position as washroom attendant for the state Assembly (and the only black person on the Assembly's staff).
A Well-Known Character
For many years Butts also served as doorman at official government ceremonies and as a butler at private parties on Mansion Hill. "A public function was not complete without Bennie," recalled one observer. "His manners were superb," said another, a remark tinged with the condescension that black people faced every day in turn-of-the-20th-century America.
In 1895, Butts was running his own business and raising a family, yet was one of only 41 African Americans in the city. He, his wife and their five children made up 10 percent of the entire black population of the city.
The Wisconsin Historical Society opened its grand new building on the University of Wisconsin campus in the fall of 1900. The Society's library served both legislators and university faculty, so it was essential to have someone who knew his way around town to deliver and retrieve communications. The Society hired the now-middle-aged Butts as a janitor and messenger. One photo from the Society's visual materials archives shows him standing outside the Society's front entrance. Bennie Butts was known and well liked everywhere, and he held the position for three decades.
At the End of His Life
In January 1930 his wife died, and a few weeks later he contracted pneumonia and died at age 80 in his home a few blocks from the Capitol. The man who began life as a Virginia slave left an estate of $1,300 (equivalent to $35,000 today).
Butts' Son Leo Makes His Own Mark on Wisconsin Football History
In an intriguing sidebar to the story of Bennie Butts' life and his years in Madison, in 1918 his son Leo became the first black football player for the University of Wisconsin Badgers. In the second game of the 1918 season, in a 21-0 victory over Beloit College, Leo Butts entered the lineup, becoming the first known African-American Badger to participate in a football game.
Learn More