Historical Essay
Louise Williams
First Woman Notary Public
Enlarge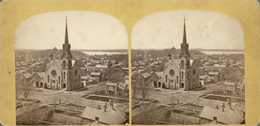 Congregationalist Church
Elevated view towards the northwest across West Washington Avenue of the Congregationalist Church. Main Hall (now Bascom Hall) of the University of Wisconsin-Madison can be seen just left of center in the background, along with Lake Mendota on the right. View the original source document: WHI 27570
As a girl in the 1840s, Louise Westover joined her family in reforms centered around Milwaukee's First Congregationalist Church -- the so-called "Free Church." They welcomed into their congregation impoverished immigrants, sailors from the docks and other social outcasts. "I can remember vividly at one service the portentous silence after the sermon," she later recalled, "when the Rev. Curtis stepped down from the pulpit, saying 'Brethren, there's something on hand for the friends of freedom. Come, George.' A Negro man got up from under the pulpit. Without a word, Mr. Avery Hill took the black man by the hand and led him out of the church...This was my first view of the Underground Railroad."
Marriage to James Williams
Enlarge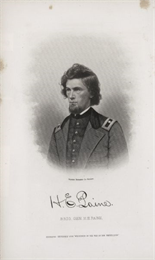 Halbert E. Paine
Engraved portrait of Brigadier General Halbert Eleazer Paine. View the original source document: WHI 43557
When the Civil War broke out in 1861 her sweetheart, James Williams, enlisted in the Fourth Wisconsin cavalry, led by Halbert E. Paine (who would soon be demoted for refusing to return escaping slaves to their owners). Williams asked her to please come south and marry him while she had the chance. She did, and shortly afterwards he died in battle. She never remarried.
Notary Notoriety
After the war, when her brother opened a law office in Oconomowoc, she joined him, hoping that working would provide solace. For the next five decades, long after her brother departed for Chicago, she gave legal advice to women who lived all over southern Wisconsin. From behind a sign reading simply "Louise Williams," she drew up contracts, wrote wills, probated estates, drafted insurance policies and provided business and legal counsel. She was the first woman recognized by the state as a notary public. "I always believed in Women's Rights," she said in her old age, "and I have tried to see that my friends received their just dues under the law."
Born into a world where slavery was legal and women could neither own property nor vote, Louise Williams would live to see many of the idealistic causes of her childhood succeed.
Learn More
See more images, essays, newspapers and records about Louise Williams.