Feature Story
Dr. George Archibald Receives 2007 'Aldo Leopold Award for Distinction in Environment and Conservation'
Wisconsin History Maker Award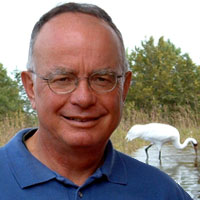 Dr. George Archibald, 2007
Award-winning conservationist Dr. George Archibald is one of five individuals honored by the Society as a 2007 Wisconsin History Maker.
The Wisconsin Historical Society celebrated the lifetime achievement of George Archibald, along with four other individuals with Wisconsin ties, during the History Makers Gala in Milwaukee on Wednesday, May 9, 2007. Archibald received Wisconsin Historical Society's 2007 Aldo Leopold Award for Distinction in Environment and Conservation.
A Wisconsin History Maker is a living individual who has recently made significant contributions to history in the state, across the nation or around the world.
---
Award-winning pioneer, conservation icon and co-founder of the International Crane Foundation, Dr. Archibald cultivated and revolutionized the preservation of rare crane species and their wetland habitats. In 1973, he co-founded the International Crane Foundation, an organization that works to safeguard endangered crane species through breeding in captivity and collaborative research with scientists around the world.
Early Years and Education
Archibald was born in New Glasgow, Nova Scotia, Canada, on July 13, 1946. One of Archibald's earliest memories of his childhood home is his crawling pursuit of a female duck and her brood. He has followed birds ever since.
As a student at Dalhousie University in Halifax, Nova Scotia, Archibald spent his summers as a bird bander, aviculturist and park naturalist in game farms and parks across Canada. He received his Bachelor of Science degree in 1968 and moved on to graduate studies in the United States. He completed his doctorate at Cornell University in Ithaca, New York.
Archibald's world travels began in 1972 when the New York Zoological Society sponsored his field research on cranes in Japan and Australia. While in Japan, he spearheaded a campaign to protect marshes on the Japanese island of Hokkaido. This work aimed to save the nesting grounds of a flock of endangered red-crowned cranes.
Origins of the International Crane Foundation
Archibald returned to the United States in 1973 to co-found the International Crane Foundation. The Foundation is currently located in Baraboo, Wisconsin. It emerged at a time when many of the 15 remaining species of cranes were on the brink of extinction. Archibald and Ron Sauey, a colleague from Cornell University, started the Foundation in a horse barn owned by Sauey's parents. When they began, little was known about the breeding biology of cranes. Some species had never been hatched in captivity. Because of this, Sauey and Archibald decided to create a "species bank" for captive cranes. They reasoned that breeding cranes in captivity was one important step toward safeguarding them in the wild.
Preserving Crane Species and Habitats Around the World
Archibald continued to conduct research and collaborate with colleagues around the world through the International Crane Foundation. Archibald's efforts led to a number of important discoveries. Archibald discovered white-naped cranes on their wintering grounds. He also led a successful campaign to save the Han River estuary, a critical wintering and migratory area located in the Demilitarized Zone between North and South Korea.
Archibald's efforts have led to the conservation of more than 5 million hectares of wetlands in Asia, mostly in China and Russia. He helped to implement conservation-education programs in remote regions of Africa, Australia and Eurasia. In his career, Archibald has studied the ecology of eight species of cranes in Australia, Bhutan, China, Iran, India, Japan, Korea, Russia and the United States. He has organized more than 900 researchers working with cranes in more than 60 nations.
'Dancing' with Cranes: Caring for Endangered Birds in Unconventional Ways
Archibald pioneered several techniques to rear cranes with human care. One method uses ultra-light aircraft to lead cranes during migration. Another technique requires human handlers to wear crane costumes when handling the birds. This decreases the chance of human imprinting.
One of Archibald's most notable legacies will be with the North American Whooping Crane population. In the 1940s, only 15 whooping cranes remained and the species was in serious danger of extinction.
Archibald spent three years with a human-imprinted whooping crane named Tex. He dressed and acted like a male crane to shift the female crane into reproductive condition. Through his dedication and the use of artificial insemination, Tex finally laid a fertile egg. Her male offspring was named "Gee Whiz" and went on to produce seven offspring of his own.
The story of Archibald and Tex brought fame to the Foundation's captive breeding program. Contributions poured in. These donations helped scientists grow the North American Whooping Crane population into hundreds of cranes. Archibald is now widely recognized as the man who "danced with a crane."
International Recognition for Conservation Work
Today George Archibald is known globally as the world's leading scientific authority on cranes, and he has received numerous awards and honors worldwide. The United Nations placed him on the Global 500 Roll of Honor for Environmental Achievement and he was inducted into the Wisconsin Conservation Hall of Fame for 2006.