Historical Essay
Pioneering Carbon Fiber Trek Bicycle
Wisconsin Historical Museum Object – Feature Story
Enlarge
Engineering drawing
Engineering drawing of seat lug used in bonding aluminum and carbon frames, c. 1988. Trek's specially designed internal lugs were investment cast for a high degree of accuracy, but creating new molds for each design change was expensive and time-consuming. When welding processes became more reliable, Trek replaced bonding with cheaper, faster welding fabrication. Source: Image courtesy of the Trek Bicycle Corporation
Enlarge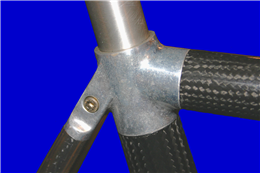 Close-up of the seat lug
Close-up of the seat lug on the Model 2500, showing the carbon fiber top tube and seat tube bonded to the cast aluminum lug (the seat stay is aluminum). Trek designers chose a woven surface layer of carbon fiber and a clear coating to emphasize the radical nature of the new material. Source: Wisconsin Historical Museum object # 2005.135.1
Model 2500 bonded carbon/aluminum racing bicycle, made by the Trek Bicycle Corporation, Waterloo, Wisconsin in 1988.
(Museum object # 2005.135.1)
The Model 2500 is a pivotal bicycle in the Trek Bicycle Corporation's development of carbon fiber technology. Headquartered in Waterloo, Wisconsin, Trek has become America's largest bicycle manufacturer, in part through the strength of its carbon composite bicycle frames. Today, Trek's Optimum Compaction Low Void (OCLV) carbon fiber frames - which Lance Armstrong rode to seven consecutive Tour de France victories - represent the state of the art of carbon fiber frame construction. The company, however, developed its carbon frame building expertise gradually.
Founded in a rented barn in the small town of Waterloo, Trek began building traditional, brazed-steel bicycle frames in 1976. For almost ten years, Trek built nothing else. Meanwhile, newer materials were making major inroads in the sporting goods industry. Various manufacturers introduced light-weight aluminum, titanium, and even carbon fiber bike frames in small but growing quantities in the mid-1970. By the early 1980s, carbon composites had already come to dominate the market for top-end golf clubs and tennis racquets.
Carbon composites are made of carbon fibers embedded in a hard epoxy matrix. Their main advantages are lightness and the ability to be highly engineered. By controlling the layering and orientation of the fibers, engineers can provide almost any desired strength and torsional stiffness; they can add strength only where needed and significantly reduce weight elsewhere.
In the early 1980s Trek faced the competitive necessity of entering the market for both aluminum and carbon fiber bicycle frames. Knowing that any investment in aluminum welding technology would not move the company towards carbon fabrication, Trek developed an aluminum fabrication technique that would eventually serve for both. The result was its innovative bonding process, which glued together frame components using aerospace epoxy. Instead of brazing the tubes inside steel lugs to form the joints in the frame, as in traditional lugged construction, Trek slipped the tubes around the ends of specially designed internal lugs, then epoxied them into place. Testing showed that bonded joints had a better fatigue life than welded joints. In 1985, Trek introduced its first aluminum bicycle frame, the Model 2000, built with this technique.
One year later, Trek introduced the Model 2500, its first bicycle frame incorporating carbon fiber. The 2500 was built just as the 2000, except that the top, seat, and down tubes were made of a carbon fiber composite instead of aluminum. Because of their immensely varied assembly options, the overall impact resistance, fatigue, and failure characteristics of carbon frames were not well defined at the time. The incorporation of carbon tubes into a familiar design allowed Trek to market a reliable carbon frame while learning more about the new material.
While the 2500 was a successful first step, Trek designers realized the maximum benefits of carbon frames could not be achieved using aluminum lugs. Shortly after introducing the Model 2500, Trek began exploring molded, all-carbon frames. The company's first such frame, made by an outside supplier, was the Model 5000, introduced in 1989. Because the 5000 frame ultimately proved to be both too heavy and too fragile, Trek invested heavily in developing its own, improved carbon fiber molding process in the early 1990s. The result, dubbed OCLV when it was unveiled in 1992, became the bedrock of Trek's subsequent success.
Only faint echoes of the mid-1980s bonding technique still persist in the glue-up of Trek's multi-part, all-carbon OCLV frames. Bonding did, however, perform a key role in the company's history.
At a critical juncture, its unique bonding technique enabled Trek not only to enter the aluminum market with a high-quality frame distinct from those of its competitors, but eventually launched the company into carbon fabrication as well. From a financial perspective, bonding also avoided the huge capital expenses of aluminum welding equipment and reduced Trek's assembly costs. Bonding continued to be used on aluminum bikes through the mid-1990s. The bonded aluminum/carbon frame of the Model 2500 represents both a crucial manufacturing decision, as well as an important first step into Trek's future of carbon frames.
Learn More
Have Questions?
For more information or to purchase an image of one of the objects featured in Curators' Favorites, contact our staff by email below:
museumcollections@wisconsinhistory.org
Posted on September 15, 2005