Historical Essay
Sue Ann Thompson's Inauguration Gown
Wisconsin Historical Museum Object – Feature Story
Enlarge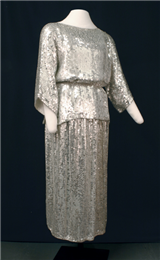 Sue Ann Thompson's inauguration gown, 1987
Source: Wisconsin Historical Museum object #2003.61.1a-b
Enlarge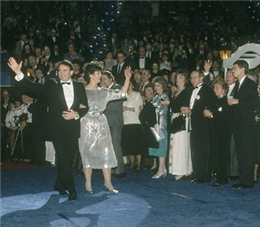 Governor Tommy Thompson and his wife, Sue Ann at the inauguration ball, 1987
Wisconsin Governor Tommy Thompson and his wife, Sue Ann, greeting supporters at the inauguration ball, 1987. Source: Image courtesy of Wisconsin State Journal
Enlarge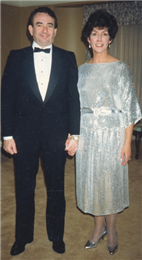 Tommy and Sue Ann Thompson, 1987
Tommy and Sue Ann Thompson on the evening of the Inaugural Ball. The couple is probably shown attending the pre-ball party held at the Concourse Hotel in Madison, Wisconsin. Source: Image courtesy of Department of Special Collections and University Archives, Marquette University
Inauguration gown worn by Wisconsin First Lady Sue Ann Thompson at her first inauguration ball, 1987.
(Museum object #2003.61.1a-b)
"Glitter, glitter, everywhere" was how the "Wisconsin State Journal" reported Governor Tommy Thompson's inauguration ball held January 5, 1987. "The Capital Times" called the party, held at Madison's Dane County Coliseum, a "holiday on ice" with its blue, white and silver décor and the feeling of "ice shimmers [dancing] on hundreds of sequined dresses." In either case it was in marked contrast to previous Governor Anthony Earl's "beer and pretzels" party held at the University of Wisconsin's Field House. Governor Thompson's wife, the former Sue Ann Mashak, fit right in with the evening's sparkle by wearing this two-piece gown of silver sequins made by Shomax of Milan, Paris and New York.
Earlier in the day, Tommy Thompson had been sworn in as governor for his first term in that office (Wisconsin would later re-elect him to the post three more times). In the early evening he and Sue Ann attended a smaller party of prominent Wisconsin Republicans at the Concourse Hotel just off the Capitol Square in Madison. They were then whisked to the Coliseum where they entered the hall triumphantly at 9:33pm to the tune of "On Wisconsin." Approximately 4,000 people attended the inauguration ball, with 1,300 supporters paying $100 to sit on the main floor, and the rest in the upper level paying $15 per seat.
The "Wisconsin State Journal" described many of the stunning gowns worn to the ball including a black one spangled with sequins, another with "splashes of flowers on glitter-gold and red on black," and a third "off-the-shoulder grab-me" gown in blue lame. The reporter did think some "looked suspiciously like they'd been wedding or bridesmaid gowns in previous lives." Still, in the midst of all of this sparkling color, Sue Ann Thompson stood out in her simple silver ensemble.
During the mid and late 1980s women's evening attire was often based in deep, rich jewel tones and covered with razzle-dazzle decoration of either beads or sequins. Shomax, a brand that specialized in eveningwear, was especially well-known for its sequined garments. Sue Ann's dress consists of silver sequins machine-sewn to silk gauze with a matching rayon lining. The dress originally had a silver belt that was not donated to the Wisconsin Historical Society with the dress.
From her humble beginnings no one, not even Sue Ann herself, would have guessed she would one day be a famous Wisconsinite. Born in Cashton Village on August 31, 1941, her family moved to Kendall when she was a small girl. Both towns are located in Monroe County, Wisconsin. Her father worked as a part-time maintenance man and her parents owned a meat locker where her father processed meat.
Sue Ann attended Viterbo College in La Crosse earning a degree in elementary and secondary education. After college she became a Franciscan nun for five years, but left the order to become a teacher in Milwaukee. While there, the teachers' union asked her to travel to Madison and lobby on their behalf. It was in Madison that she met a young state legislator from Elroy named Tommy Thompson. A year later on March 29, 1969 they married.
The couple raised three children in Elroy, Wisconsin, Tommy's hometown, where Sue Ann also taught 6th grade. When Tommy became governor, Sue Ann decided to stay in Elroy and continue teaching, a decision her husband supported. At first, Elroy students and parents were awed and a little intimidated by having the First Lady as a teacher, but they soon learned she intended to remain their teacher first and foremost.
Sue Ann preferred a quieter lifestyle than her husband, but still admitted "that being the wife of a governor possibly has been the greatest single experience in her life, one that has provided an opportunity to have an impact on people." After Tommy Thompson left the Governor's office in 2001 to head the U.S. Department of Health & Human Services in the Bush Administration, Sue Ann's continued to use her own connections and skills to help the citizens of Wisconsin, including a major commitment to serve as the president of the Wisconsin Women's Health Foundation.
Learn More
Have Questions?
For more information or to purchase an image of one of the objects featured in Curators' Favorites, contact our staff by email below:
museumcollections@wisconsinhistory.org
[Sources: Williams, Nancy Greenwood. "The First Ladies of Wisconsin: The Governors' Wives" (Kalamazoo, MI: Ana Publishing, 1991); "Wisconsin State Journal", January 6, 1987; "The Capital Times", January 6, 1987.]
LAB
Posted on December 28, 2006