Historical Essay
Suzy Favor Hamilton's Olympic Track Shoes
Wisconsin Historical Museum Object – Feature Story
Enlarge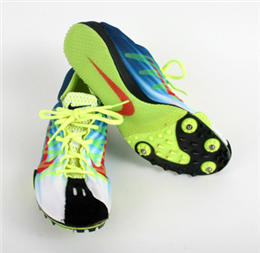 Suzy Favor Hamilton's Olympic track shoes, 2000
Source: Wisconsin Historical Museum object #2006.110.1A-B
Enlarge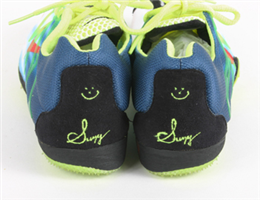 Back view of Hamilton's shoes
A view of the back of Hamilton's shoes with embroidered "smiley" faces and her signature that many of her competitors saw during her outstanding 2000 season. Source: Wisconsin Historical Museum object #2006.110.1A-B
Enlarge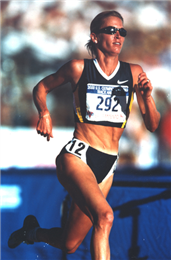 Hamilton in action, 2000
Hamilton in action during the 2000 season. Source: Image courtesy of Suzy Favor Hamilton
Pair of Nike running spikes worn by Suzy Favor Hamilton during the 2000 track season.
(Museum object #2006.110.1A-B)
Born in Stevens Point, Wisconsin in 1968, Suzy Favor Hamilton became one of the greatest all time middle-distance women track runners in the history of the United States. On July 28, 2000, Hamilton wore this pair of custom-embroidered Nike racing spikes to post the fastest 1500 meter time of her life at the Bislett Games in Oslo, Norway. Her stellar 3:57.40 time was the fastest in the world in 2000 and the second fastest time ever recorded by an American woman runner in the 1500 meter run. Hamilton later wore these same spikes to build a commanding lead in the 1500 meter event at the 2000 summer Olympics in Sydney, Australia. Unfortunately, Hamilton blacked out and collapsed in the final 100 meters of that race, finishing twelfth in the field. At first, it was suspected that she suffered from dehydration, but it was later revealed that Hamilton had been running with a strained hamstring and bone injury in her pelvis.
Suzy Favor began her running career at the age of nine and garnered respect at every level of racing. A versatile runner, she competed at several different distances ranging from 800 to 5000 meters. Just a few of the honors listed on the three-time Olympian's resume include eleven state high school track titles, a Scholastic Sports Magazine top 100 High School Athletes of the Century award, a Big-Ten Athlete of the Decade award, and the honor of being voted the NCAA Division I Most Outstanding Student-Athlete over the past 25 years in 2006.
Before graduating from the University of Wisconsin-Madison with a Bachelor of Science degree in Graphic Arts in 1990, Suzy had compiled 23 Big Ten championships (all but two in individual events), 14 All-American awards, and nine NCAA Championship victories. Shortly after graduation, Suzy married Mark Hamilton and moved to Malibu, California to begin her professional career. Under the endorsement of Reebok, she was an instant success, winning both indoor and outdoor national titles in 1991 before making her first Olympic Team in 1992.
Unfortunately, Hamilton had a disappointing season both at the Olympics and at the indoor national level, prompting her to move to Eugene, Oregon, to train with the distinguished coach Dick Brown. Brown reinvigorated Hamilton's passion for running as she continued to adapt to competing at the professional level. Following another disappointing Olympic season in 1996, however, Hamilton returned to Wisconsin to reunite with her college coach, Peter Tegen. In 1997, under the sponsorship of Nike, Hamilton ran her then personal best time in the 1500 meters, finishing at 4:03. That same year, Hamilton celebrated several other victories and was awarded her first world ranking, a number five seeding in the world standings.
Hamilton continued to improve her personal times in 1998, running the 1500 meters in 3:58 in Monaco and winning the U.S. Indoor championship in the same event. After missing the 1999 season due to an Achilles tendon injury and simultaneously mourning the tragic death of her older brother Dan, Hamilton returned to the track and had one of her best years of competition in 2000 until her collapse at the Sydney Olympics. Despite an injury that refused to heal entirely, Hamilton was able to finish sixth in the world ranking, with four top-three finishes in the Golden League Circuit. In 2002, Hamilton had her best overall season. She was seeded a personal best third in the International Association of Athletics Federations world ranking and celebrated her fourth first place ranking in the United States in five years (the only year she was not ranked first was 1999 when she did not compete).
Learn More
Have Questions?
For more information or to purchase an image of one of the objects featured in Curators' Favorites, contact our staff by email below:
museumcollections@wisconsinhistory.org
[Sources: Suzy Favor Hamilton website; USA Track & Field website]
MCH
Posted on April 12, 2007