Historical Essay
The Story of Memorial Day
Celebrations of Memorial Day Throughout History
Enlarge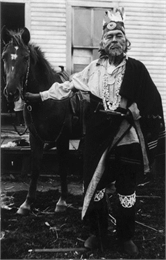 Potawatomi Chief Simon Kahquados
Candid portrait of Potawatomi Chief Simon Onanguisse Kahquados holding the bridle of a horse. View the original source document: WHI 38943
Many cities and towns claim the distinction of holding the first Memorial Day. Setting aside a day to decorate the graves of fallen soldiers began at the end of the Civil War, when Southern widows placed flowers not only on their Confederate husbands' graves but also on nearby neglected graves of Union soldiers.
John Logan
In May 1868 General John Logan, national commander of the Grand Army of the Republic (a nationwide Union veterans group) declared that all G.A.R. members should observe May 30th as a time to remember soldiers on both sides who had been killed. The first town to officially do this was Waterloo, New York, and by 1890 the holiday was recognized by all of the northern states. After World War I Memorial Day changed from honoring only those who had died in the Civil War to honoring all Americans who died in any war.
Memorializing American Indians
Wisconsin was quick to join the nation in celebrating Memorial Day. Here is a long newspaper story detailing how it was observed in our capitol city in 1875. In contrast, this article shows how residents of the village of Hancock in Waushara County observed it during World War I. By 1931, Wisconsin residents had expanded their concept of Memorial Day to include respect for American Indians. In that year Potawatomi Chief Simon Kahquados, who had died shortly before, was buried in Peninsula State Park near his ancestors, as he had requested in his will.
Enlarge
Memorial Day Parade
A pair of toddlers lead a part of the 33rd annual Memorial Day Parade on flag-bedecked tricycles. View the original source document: WHI 22951
After Congress made it an official holiday falling on the last Monday in May (in 1971), guaranteeing a three-day weekend, Memorial Day began to lose sight of its roots. With parades such as this one in Elm Grove led by toddlers in 1979, it became in the popular mind a symbol of summer's commencement.
Modern Interest
But America's involvement in new wars in recent decades led to a resurgence of interest in its origins and customs. The sale of red poppies to support veterans' relief organizations, which originated shortly after World War I, was resurrected. Memorial Day may be evolving once again, this time from a symbol of brats and beer back into a time to remember and reflect on soldiers from all communities, men and women, who died while fighting for the country they cherished.
Learn More
See more images, essays, newspapers and records about Memorial Day.