Historical Essay
Madison's First Presidential Visit
The Brief Stay of Rutherford B. Hayes
Enlarge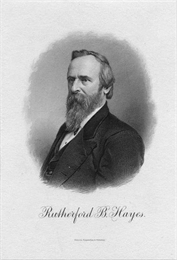 Rutherford B. Hayes, ca. 1881
Rutherford B. Hayes, 19th President of the United States (1877-1881). Hayes won the most heavily disputed election in the country's history, actually losing the popular vote to his opponent. He announced in advance that he would only serve one term as President. View the original source document: WHI 27953
The first visit to Madison by a United States president occurred on September 10, 1878, when Rutherford B. Hayes spent the day in the capital city.
A Close Call
Hayes was not an especially noteworthy president. He lost the popular election in 1876, and the Electoral College vote was hotly disputed. He was finally named President in January 1877 when a special congressional committee reviewed the Electoral College balloting and gave him a one-vote victory. He announced he would serve only a single term. But during those four years the animosity of Reconstruction Era politics stalled his efforts at reform.
Arrival in Madison
After 18 months of fighting in Washington, Hayes decided in 1878 that he needed a tour through the Northern states over the summer. He arrived in Madison on September 10, 1878. The event was the first time the state received a visit from a sitting chief executive of the nation. The president, Mrs. Hayes and their three sons stayed at the Park Hotel in Madison. The hotel's barber, Herman Gaertner, recalled shaving many other dignitaries there but had no recollection of the visit from President Hayes — perhaps because he wore a full beard.
Enlarge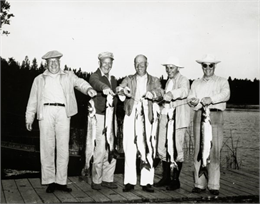 Dwight D. Eisenhower Fishing, 1956
Dwight D. Eisenhower and his brothers on a fishing trip proudly exhibit muskies and northern pike on a Wisconsin lake. From left are Dwight, Edgar, Milton, and Roy Eisenhower. View the original source document: WHI 2095
A reception was given for the President in the Assembly chamber, and the first family were guests of Gen. David Atwood. They took a boat ride around Lake Mendota and went to the State Fair at Camp Randall, where Hayes gave a speech on the nation's fiscal policy. Mrs. Hayes "went to ladies hall at the university" and "mingled in a friendly manner," a contemporary account says, "with the young lady students." The first family then went on to Milwaukee by train the next morning.
Later Visits
Two later sitting presidents skipped Madison when they came to Wisconsin for rest and relaxation. Calvin Coolidge — known as "Silent Cal" to the press — visited northern Wisconsin on a working vacation in 1928. A generation later, President Dwight D. Eisenhower vacationed up north.
Over the years many other presidents visited Wisconsin while campaigning, during office or later in their careers. The only president who spent much of his life here was Zachary Taylor, who was an officer at all three of Wisconsin's territorial forts from 1817 to 1836.
Learn More
See more images, essays, newspapers and records about Rutherford B. Hayes.