Historical Essay
Madison's First Thanksgiving
The Power of the Pumpkin
Enlarge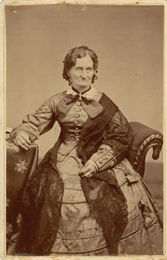 Mrs. Roseline Peck
Mrs. Roseline Peck, born 1808 - died 1898, first white woman in Madison, Wisconsin. She was the wife of the first tavern keeper, Eben Peck. 1874. View the original source document: WHI 38795
The first Thanksgiving in Madison took place in 1838 at the log cabin of Eben and Rosaline Peck. They had located their home overlooking Lake Monona in the spring of 1837 and used it as a boarding house for construction workers erecting the Capitol. That took more than a year, but legislators were on hand in the fall of 1838 to celebrate. According to "Stagecoach and Tavern Tales of the Old Northwest" (pp. 248-249) by Harry Ellsworth Cole:
"Doctor Lucius I. Barber ... came to Wisconsin in 1835 and represented Milwaukee county in the legislature of 1838. One of his colleagues was Daniel Wells, Jr. They occupied the same room at the Madison Hotel and one chilly morning while lying in bed the subject of Thanksgiving dinners became a topic of conversation. This moved Doctor Barber to remark, 'Daniel, we ought to have Thanksgiving in Wisconsin.'"
"'That's so,' agreed Wells, 'but the trouble is there are no pumpkins.' The role played by the pumpkin in the Pilgrim festival was so important that a Thanksgiving dinner without pumpkin pies seemed out of the question to Wells. Doctor Barber argued that if there were a legal provision for the observance of the day, the pumpkins would be forthcoming, whereupon a resolution was drawn and Wells gave to it his support in the territorial legislature. In the lower house some opposition developed from the southwestern members because they were largely from the section where the holiday had not become firmly established. Finally, however, the resolution was adopted and from that day Thanksgiving has become a recognized feature in the life of the commonwealth."
Enlarge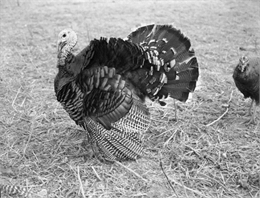 Turkey
A turkey fans his tail at the Frank Lyons Turkey Farm. Verona, November 1947. View the original source document: WHI 34540
In fact, Thanksgiving had already been celebrated in Green Bay as early as 1833, and in 1835 Mary S. Roller brought a brood of turkeys with her to Milwaukee when she emigrated west from Buffalo, specifically intending to sell them for Thanksgiving. As this article describes, she had great difficulty protecting them from some of her Indian neighbors who were unfamiliar with domesticated birds or white concepts of private property.*
Humble but Enjoyable
In Madison in 1838, the Peck cabin was filled with the sounds of Rosaline's fiddle and toasts to the recent completion of Wisconsin's first capitol. High prices of flour, pork and potatoes in Milwaukee probably dissuaded these early Wisconsinites from having many foods associated with a modern Thanksgiving feast. Instead, they enjoyed venison, fish, cranberries and native produce. And although it was a humble affair, all who attended had an enjoyable time.
The only surviving evidence of the first Thanksgiving by settlers, at Plymouth Plantation in Massachusetts, is given in this previous "Odd Wisconsin" entry. In this memoir, Fond du Lac pioneer James Pond recalls how relief from a Thanksgiving in poverty appeared from a most unexpected quarter.
* Note: Roller's article was published more than a century ago and exhibits the racist language and stereotypes one expects to find in the American press during the Jim Crow era.
Learn More
See more images, essays, newspapers and records about Thanksgiving.