Historical Essay
Lumberjack Saved Union Fleet
3,000 Dam the Red River
Enlarge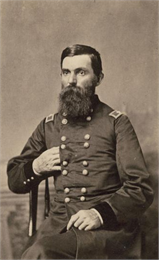 Joseph Bailey
Brigadier General Joseph Bailey was known for the rescue of the Red River Fleet by building a dam to float the stranded ships out. He also founded the small town of Newport. View the original source document: WHI 31815
On April 30, 1864, Joseph Bailey (1827-1867) of Wisconsin Dells commenced a fantastic attempt to save the Union Navy.
The Fleet Runs Aground
Earlier that spring, 30,000 Union troops had invaded Louisiana to stomp out Confederate resistance in the West and seize valuable supplies. They ascended the Red River on 60 transport ships accompanied by ironclad gunboats.
But half the fleet ran aground in mile-long rapids, so the Union troops headed into combat on foot. The Confederates repulsed them though, and they rapidly retreated to their ships, expecting to get away.
While they were gone, however, the Red River had sunk even lower. The Northern soldiers found their gunboats and transports completely stuck. There seemed no alternative but to flee overland and destroy the country's finest ships so they wouldn't fall into enemy hands.
The Lumberjack Saves the Day
That's when Joseph Bailey proposed damming the river below the rapids to raise its water level. The idea struck most of the Union officers as a great joke. They apparently had never met a Wisconsin lumberjack.
Directing 3,000 men night and day, many of them working waist deep in the Louisiana muck, Bailey constructed an earth and timber dam that raised the river depth to nearly six feet. But just after the first gunboat shot through, his dam partially collapsed and the skeptics felt vindicated.
Enlarge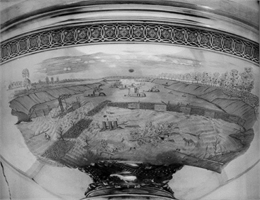 Joseph Bailey Punch Bowl
A detail of the engraving on the silver punch bowl that was presented to Colonel Joseph Bailey. View the original source document: WHI 49981
Undaunted, Bailey's crew promptly built a series of wing dams upriver, such as loggers used to channel the current. The water rose again and, as thousands cheered from shore, the remaining ships cascaded over the rapids to safety and the Union forces escaped downriver. That dramatic day is described here.
Engineer and Brigadier General
During the remainder of the war, Bailey served as an engineer and led cavalry raids in the Gulf states. In November 1864 he was commissioned brigadier general, and in March 1865 was brevetted major general in recognition of his service in saving the Union Navy. His fellow officers gave him this silver Tiffany punch bowl to commemorate his success.
Leaving the army in July, 1865, Bailey returned briefly to Wisconsin and then moved to Nevada, Vernon County, Missouri. Elected sheriff, he was murdered on Mar. 26, 1867, while arresting two suspected bushwhackers.
Learn More
See more images, essays, newspapers and records about Joseph Bailey.