Historical Essay
Sundae Sermon
Defining Sundaes
Enlarge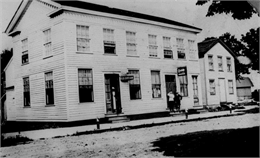 Berner's Ice Cream Parlor
View of E.C. Berner's Ice Cream Parlor, where the first ice cream sundae is said to have been made in 1881. View the original source document: WHI 37944
The desire to be "first" seems to be part of human nature. Here in Wisconsin, the Manitowoc County city of Two Rivers has long claimed to be the birthplace of the ice cream sundae, citing local oral tradition of its invention at Berner's Ice Cream Parlor in 1881. But Ithaca, NY, also claims the distinction, and can point to an 1892 newspaper advertisement as proof. Several other towns around the country also argue that "they" invented the ice cream sundae.
Investigation
The "New York Times" investigated these claims in 2006 in a marvelously good-humored article. The issue ultimately comes down to a definition of what defines a sundae: the chocolate over ice cream (Two Rivers, 1881) or the cherry on top (Ithaca, 1892).
The controversy is nicely summed up, with links to relevant sources, in the Internet Scout Report. Resolving the first sundae controversy lies in how one answers the two fundamental questions asked by historians: "what, precisely do you mean?" and "how do you know?" And in how well one employs critical thinking to gather and interpret evidence.
If you're a teacher, maybe you could use this controversy as a way to teach kids how to think like a historian — with a free sundae going to the creators of the best-researched and best-argued presentations.
Learn More
See more about sundaes.