Historical Essay
Pearl Harbor through Wisconsin Eyes
Witnesses Tell Their Stories
Enlarge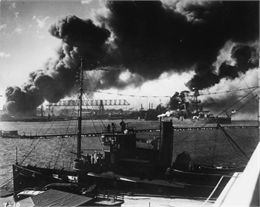 Battle of Pearl Harbor, 1941
Pearl Harbor, Hawaii. Smoke rises from the Japanese attack on December 7, 1941. View the original source document: WHI 36555
Wisconsin may be more than 4,000 miles from Honolulu, but several residents of our state were on hand December 7, 1941, when Japanese airplanes attacked.
Stewart Yeo
Maj. Stewart Yeo of Milwaukee was hardly awake when the attack started just before 8:00 am: "I was still in bed when the first bombs hit an airfield adjoining Schofield [Barracks]. After hearing a few more and machine gun firing above our quarters from planes, I finally decided it must be the real McCoy. So I ran out in front with my field glasses and Eunice and Tuffy [his wife and daughter] following. When we saw the large red spots, the rising sun, on the wings of the planes we only needed one guess. The Jap planes were flying around hither and thither machine gunning the area. Bullets went thru neighbors' houses and splattered the ground in front of the house. After retrieving Tuffy who broke away and ran out into the open across the street, we kept inside. A Jap bomber flew directly over where Eunice was standing at one time at a distance of about 100 feet, close enough to see the pilot."
The entire letter from selections of the "Yeo, Sewart. Papers, 1918-1953" can be found in the Turning Points in Wisconsin collection. It was also reproduced in the book "Letters from the Front: 1898-1945," edited by Michael Stevens.
Will Lehner
Another Wisconsin resident, Will Lehner of Stevens Point, was a 20-year-old sailor whose ship was patrolling outside Pearl Harbor when the attack began. After sinking a Japanese submarine his vessel headed back into the harbor: "We saw a lot of planes diving down and we thought that the army air force was practicing again. We didn't know what it was. This was about eight o'clock then, and shortly after that, two planes came over us and they were so low that you could see the pilots in the plane. They dropped bombs on each side of us, but missed." You can listen to his interview at Wisconsin Stories, a documentary partnership among the Society, Wisconsin Public Television and the Wisconsin Veterans Museum.
Alan North Williams
Marinette resident Alan North Williams (1912-2001) served as a photographer's mate in the U.S. Navy and took or collected hundreds of wartime photographs including portraits of soldiers, civilians and scenes of land, air and sea battles.
News of the attack immediately swept the nation and two days later Leland Coon of the UW School of Music took his tape recorder onto Madison streets to interview people about their feelings. In this recording at the Library of Congress Coon discusses the attack with a mother, the director of a private business school, two students, a college professor and two single women. Both the audio and transcripts are available.
More than 2,400 Americans died in the attack and nearly 1,200 more were wounded. See more interviews with witnesses and survivors on the U.S. Navy website.
Learn More
See more about Pearl Harbor.