Historical Essay
Floods in Wisconsin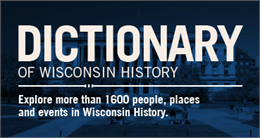 Wisconsin River flood, 1965 (WHI-10475)
Floods have always been part of Wisconsin life. Early French-Canadian residents of Prairie du Chien recalled 1785 as "l'annee des grandes eaux" -- the year of the great waters -- from Mississippi River flooding in April of that year. Here follows a list of the most significant floods in Wisconsin history; links to photographs, newspaper articles, and other sources can be found at the end.
La Crosse, 1880: From June 15 to 19, during the season of the log drives, the Black and Mississippi rivers steadily rose, flooding the lower part of the city. By June 19 the crest of 15 feet 2 inches had been reached and reports from upstream cities showed that the flood was beginning to subside. Railroad grades and tracks suffered much damage and train service was badly disrupted but no lives were lost. [Wisconsin Centennial Story of Disasters and Other Unfortunate Events (Madison, 1948)]
Wolf River, 1880: The same storms raised streams and creeks in northeastern Wisconsin, and bridges at Keshena, Belle Plaine and Shiocton were all swept away as those communities were inundated. [Chicago Tribune, June 15, 1880: 5]
Fox Valley, 1880-1881: The low-lying headwaters of the Fox River, which start within a mile of the Wisconsin River, have always been subjected to frequent flooding. Where the two come closest together, at Portage, floods in 1838, 1845, 1850, 1852, and 1866 damaged homes and businesses. The city's worst flood occurred in 1880, when the Lewiston levee on the Wisconsin gave way and sent it pouring into the Fox, leaving Portage an island completely isolated from the outside world. In the fall of 1881, the Lewiston levee broke again, in October, sending the Wisconsin River overland into the headwaters of the Fox; the resultant floods downstream in the latter river submerged businesses and caused disease outbreaks in Fond du Lac, Oshkosh, and Neenah. [Oshkosh Northwestern April 25, 1929]
Chippewa Valley, 1884: On September 11, 1884, a 27-foot flood carried away houses and all the bridges in Eau Claire; the total loss in the Eau Claire Valley was placed at $1,500,000 and more than 3,000 people were left homeless. Damage extended from Chippewa Falls all the way to Durand. [Chicago Tribune, Sept. 11 and 13, 1884]
Sparta, 1899: On the night of June 11-12, an intense storm sent all local streams and rivers over their banks, washing out roads, bridges, and cultivated fields; there was no loss of life. [Wisconsin Centennial Story of Disasters and Other Unfortunate Events (Madison, 1948)]
Black River Falls, 1911: In early October, heavy rains filled the upstream tributaries to the Black River, and near dawn on Oct. 6, two dams above Black River Falls gave way. The river rose 20 feet over its already high level and rushed through city all day long. By nightfall, 85% of the business district had been washed downstream; 80 buildings and 42 acres of land, including entire hillside neighborhoods, were swept away. Miraculously, no one was killed, but only 14 structures remained in the downtown and damages were estimated at $2,000,000. [Olson, Ann Marie. Black Friday (Black River Falls, Wis.: Block Print, 1987)]
Northern Wisconsin, 1941: Floods in Sept. left 1,500 people homeless and two dead in the upper Wisconsin and Chippewa watersheds; at Eau Claire, waters crested at a level of 22 feet. [Wisconsin Centennial Story of Disasters and Other Unfortunate Events (Madison, 1948); Chicago Tribune, Sept. 2, 1941]
Sparta, 1943: On May 31, the worst flood in the town's history caused damage estimated at half a million dollars when Bear Creek jumped its banks after torrential rains. Homes and businesses were inundated three to four feet deep, bridges were washed out, and roads destroyed; water mains were broken, which not only reduced the water supply but contaminated that which was available. At least one person drowned, and damages were estimated at $250,000 within the city and an equal amount in surrounding areas. [Wisconsin Centennial Story of Disasters and Other Unfortunate Events (Madison, 1948)]
Ashland, June 1946: In far northern Wisconsin, 9.23 inches of rain fell on two days in late June, submerging concrete highways and railroad grades, sweeping away bridges, and sending three feet of water roaring through the Ojibwe community of Odanah. The area affected stretched at least sixty miles from north to south and included severe damage in Washburn, Bayfield, and Glidden as well as Ashland and Odanah. [Wisconsin Centennial Story of Disasters and Other Unfortunate Events (Madison, 1948)]
Darlington, 1948: As it had in 1923 and 1937, the Pecatonica River rose rapidly after two inches of rain began on February 27. Hard frozen ground sent all the water toward the town, where the river rose a foot each hour before cresting at 18 feet. Two blocks of the business district on Main Street fell under several feet of water, the fairgrounds lay under five feet, and the Milwaukee Road discontinued trains for nearly a week. [Wisconsin Centennial Story of Disasters and Other Unfortunate Events (Madison, 1948)]
Kickapoo Valley, 1951: When more than 8 inches of rain fell during the last week of July, floodwaters tore through Crawford, Vernon, and Richland counties as the Kickapoo emptied into the Wisconsin. Gays Mills was submerged five feet deep in water, buildings floated away at Boaz, and all six members of a family near Viroqua drowned when their farmhouse was swept downstream. [Chicago Tribune, July 23, 1951: 11]
Prairie du Chien, 1965: The Mississippi rose rapidly in early April and some residents of the city, built on islands and low-lying prairie, began evacuating on the 9th. Over the next two weeks, sandbagging commenced, shelters were set up, and highways closed, but all in vain. Residents eventually exchanged cars for boats and watched sheds, garages and other small buildings float away. On the 24th, the river crested at 25.4 feet, the highest level ever recorded in the city. [Floods: 1993, The Longest Flood; 1965, The Highest Water...(Prairie du Chien, Wis.: Howe Print. Co., 1993?]
Darlington, 1990: In June of 1990 the Pecatonica River again washed out bridges and roads, submerged crops, flooded businesses and homes, and caused power outages. Water levels in approximately 30 buildings varied from minor basement flooding to water four feet above the first floor. Damage was estimated at more than $2.8 million. [Wis. DNR. "History of Flooding in Wisconsin."]
Entire state, 1993: An unusually snowy winter was followed by two to three times the normal rainfall between January and July (20-40 inches, in many places in the Upper Mississippi Valley). When two to seven inches of rain fell on June 17-18, every major river in Wisconsin flooded; 20 dams were overtopped, broken, or washed away. Crop and soil damage in Wisconsin topped $800 million, residentual damage totaled $46 million, and business losses were estimated at $31 million. The federal government declared 46 of the state's 72 counties disaster areas. [Wis. DNR, Bureau of Water Regulation & Zoning. The Floods of 1993: The Wisconsin Experience (Madison, Dec. 1993)].
Southern Wisconsin, 2008: During the first half of June, 2008, seven southern counties received more than a foot of rainfall, as daily precipitation records were set 114 times in Wisconsin cities and towns. The town of Ontario received more the 6 inches on June 8th, and Baraboo more than 17 inches during the month. Unfortunately, record snowfalls the previous winter had left historic high streamflows across much of the state. The combination of the two forces led to flooding of historic proportions in the watersheds of the Mississippi and Wisconsin rivers. Lake Delton, located in the Wisconsin Dells in south central Wisconsin, breached its dam and emptied into the nearby Wisconsin River on the 9th, sweeping away three homes and part of a highway. Thirty-one Wisconsin counties were declared disaster areas, more than 40,000 homes and 5,000 businesses were damaged; state officials estimated the total damage at more than $1.2 billion. [U.S. Geological Survey. "Flooding in the Midwest, June 2008" and "Record Rains during the First Half of June 2008"; Capital Times, Dec. 3, 2008; Milwaukee Journal Sentinel, Sept. 18, 2008]
More details are available on pages 31-34 of The Wisconsin Centennial Story of Disasters and Other Unfortunate Events (Madison, 1948). A handful of historic newspaper articles on Wisconsin floods can be found among our collection of Wisconsin Local History & Biography Articles, and you can view several dozen historic photographs of floods at Wisconsin Historic Images.
Learn More
See more images, essays, newspapers and records about floods in Wisconsin.

Dictionary of Wisconsin History
Explore more than 1,600 people, places and events in Wisconsin history.