Historical Essay
Labor Day in Wisconsin
Beyond Beer and Brats
Enlarge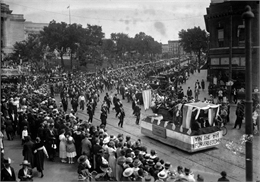 Labor Day Parade, 1918
Madison, Wisconsin. Labor Day parade on the Capitol Square at King Street, featuring a float that has the words "Win The War For Freedom" on the front. View the original source document: WHI 36028
To most of us, Labor Day is simply the final weekend of summer. But we have this long weekend only because of working men and women who insisted on public recognition of their contributions to American life more than a century ago.
Origins of Labor Day
The direct inspiration for Labor Day occurred in New York City on Tuesday, September 6, 1882, when 10,000 workers left their jobs to parade through Manhattan demanding an eight-hour workday. The organizers called it "Artisans' Day" and encouraged workers in other cities to follow their example. Within a few years, the practice had spread all across the country.
In Wisconsin, Labor Day became an official state holiday in 1893 and a day of great celebration for the Federated Trades Council of Milwaukee. A 1900 Labor Day Celebration Souvenir Program documents how Milwaukee participated in the holiday. It features articles on labor issues, labor stories and songs, and advertisements from sympathetic businesses.
Early Celebration in Wisconsin
Labor Day used to mean something more than beer and brats. After marching through Milwaukee on Artisans' Day 1888, thousands of iron molders, carpenters, shoe and boot makers, cigar makers, iron and steel makers, printers and stone-cutters assembled at Schlitz Park with their families for an afternoon of speeches in English and German, as well as athletic contests and a grand ball.
Federal Holiday
Enlarge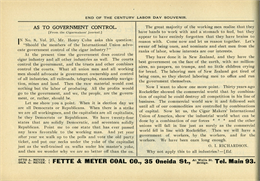 Page of the End of the Century Labor Day Souvenir Program
Published by the Milwaukee Trades Union Label League to commemorate the celebration of Artisan Day, Monday, September 3, 1900. View the original source document: End of the Century Labor Day Souvenir

Labor Day became a national holiday in 1894. President Grover Cleveland, after breaking the American Railway Union with considerable violence and loss of life, signed a bill making the first Monday in September a national holiday for American workers. It was a blatant attempt to win back their support, but workers were not so easily fooled. The program from a 1900 Milwaukee celebration includes this advice:
... year after year we walk up to the polls and vote the old party ticket, and put our necks under the yoke of the capitalist just as the well-trained ox walks under his master's yoke, and then we wonder why we are no better off than the ox. The great majority of the working men realize that they have hands to work with and a stomach to feed, but they appear to have entirely forgotten that they have brains to reason with. Come now and let us reason together. Let's swear off being oxen and nominate and elect men from the ranks of labor, whose interests are our interests…We have been oxen long enough.
The Society's History of Collecting Labor Stories
The Wisconsin Historical Society began actively collecting historical materials related to labor and working-class people in the 1890s. Back when many cultural institutions shunned labor unions, the Society subscribed to their newsletters and gathered them in their filing cabinets for posterity.
This effort began more than a century ago when University of Wisconsin professors Richard T. Ely (1854-1943) and John R. Commons (1862-1945) started collecting materials and guiding graduate research on labor history. The pair produced a multi-volume "History of Labour in the U.S." (1918-1935) as well as publishing much of its source material in the "Documentary History of American Industrial Society" (10 volumes, 1910-1911). Their manuscripts at the Society total more than 200 boxes of records and hundreds of reels of microfilm.
Once that foundation was laid, many labor organizations and historians decided that the Society was the natural steward for their unpublished records and archival materials flowed in. During the 1950s the Society made a renewed effort to collect labor materials, especially ones generated during the Depression. Since then additions to these collections have grown steadily, and new efforts such as documenting workers in clerical and service jobs have been launched. In the 1980s, grant-funded staff spent hundreds of hours interviewing workers and officials about the racial integration of unions during the 1950s and 1960s.
About the Society's Labor History Research Collections
The result of all the hard work of actively amassing labor stories is one of the nation's largest and richest collections for the study of the American labor movement. Today the Society holds a vast array of labor history resources including labor newsletters, firsthand accounts, documents and museum objects. It includes more than 600 separate collections of unpublished material, over 3,000 magazines and newsletters and nearly 10,000 books and pamphlets about labor in America.
Noteworthy archival materials include the records of the International Workingmen's Association, the Socialist Labor Party, Victor Berger, John L. Lewis and the 1888-1955 American Federation of Labor. The archives of trade unions include the International Association of Machinists, United Packinghouse Workers, International Brotherhood of Teamsters and the Textile Workers Union of America, among others. Much of this material was microfilmed during the 1960s and 1970s in order to preserve and easily share it.
Museum Objects Related to Labor History
Of course, most workers did not edit periodicals or write books, so the best evidence about their lives may come from the objects they used to accomplish their work. The Society's Museum collected the physical artifacts of working-class life just as its Library and Archives collected texts and photos, including an Industrial Sewing Machine from the OshKosh B'Gosh Plant, Migrant Workers' Bunk Beds, Woolen Mill Time Clock, and an 1880s Silk Ribbon Worn During an Artisans' Day Parade in Milwaukee.
Sharing Labor Stories
The Society has also put the most important eyewitness accounts and historical documents about labor in Wisconsin online at Turning Points in Wisconsin History. Its section on "The Birth of the Labor Movement" contains many early accounts, and its section on "Depression and Unemployment" contains labor documents from the 20th century. Important labor leaders, reformers and events are individually described in historical essays on this website.
Our goal in this work is to help people — especially young people learning their history for the first time — discover that our common heritage is much richer and more complex than appears at first glance. History is not just a boring collection of names and dates entombed in a high school textbook. It's a web of truly amazing, interconnected stories about all types of people. Understanding them helps make us who we are today.
Learn More
See more images, essays, newspapers and records about Labor Day. These include historic photos of many Wisconsin communities as they hold Labor Day parades and celebrations.