Historical Essay
Civil War: Wisconsin Statistics
Enlarge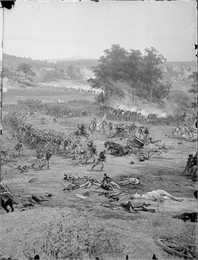 Battle of Gettysburg Panorama #1724, 1889
Stereograph from H.H. Bennett's Chicago Panorama of the Battle of Gettysburg representing Pickett's charge. View the original source document:
WHI 25717
In the decades following the war, state officials gathered together the government records created at the time.
After combing through them all, they concluded in 1895 that:
"...according to the official records the total number of men Wisconsin is credited with having furnished to the war is 91,327, divided as follows:
Infantry 77,375
Cavalry 8,877
Artillery 5,075
Of this number, 3,802 were killed in action or died of wounds, and the number of deaths from all other causes 8,499.
Total deaths, 12,301."
[Source: Wisconsin Census Enumeration, 1895: Names of Ex-soldiers and Sailors Residing in Wisconsin... (Madison: Secretary of State, 1896), page vi]