Historical Essay
Notable Fires in Wisconsin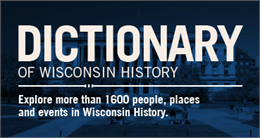 Wisconsin has had many notable fires in its history. Among the most famous are the Peshtigo Fire, Milwaukee's Newhall House hotel fire and its widespread Third Ward blaze, and the Capitol fire of 1904. Each of these is discussed individually elsewhere on this site. Forest fires, likewise, are described in a separate entry.
Hotels and Theaters
Other famous fires in Wisconsin public buildings include (in chronological order):
The Hyatt Hotel, Janesville, burned January 12, 1867.
In a blaze which destroyed the Halliday Hotel at Kenosha in February, 1871, seven persons burned to death.
A fire in the Blake Opera House at Racine in 1884 claimed five lives.
On the night of July 31, 1895, a famous "financial flop," the Tonyawatha Hotel on Lake Monona, went up in smoke.
On April 12, 1896, the Central House at Reedsburg burned to the ground.
The Hotel Grace at Milwaukee was gutted by fire on July 18, 1899.
On November 6, 1901, the Klondike Theater was burned at Hurley; 10 lives were lost.
In February, 1904, fires in hotels at Ashland and Prairie du Chien were recorded, while on March 12, 1904, a hotel and business house were destroyed at Ripon.
The Milwaukee Exposition Building burned on June 4, 1905, with a loss of $300,000.
The opera house at Superior had fires in 1909 and 1911. On Feb. 1, 1949, a hotel tragedy occurred at Ripon when 6 lives were lost in a fire.
University of Wisconsin Fires
The University of Wisconsin-Madison has had two significant fires. The burning of Science Hall occurred on the evening of December 1, 1884. It was only a small fire when discovered, but the campus fire-fighting equipment was carefully locked up to prevent student pranks. When the volunteer fire department finally came charging down the street, they halted at the corner of Lake and Langdon streets and refused to budge, suspecting a false alarm by mischievous students. After they were assured that the fire was real, the firemen approached but by the time the first stream of water hit the building, the fire was out of control. Before morning, the $80,000 building and its valuable collections were totally destroyed. The Wisconsin State Journal, annoyed by the whole affair, condemned the city's "useless toy for a fire brigade." The University's second big conflagration destroyed the dome of Bascom Hall on October 10, 1916. Students joined firemen in fighting the blaze. The two wings were saved, but the central portion of the old building was badly damaged.
Fires in Cities and Towns
Other notable fires are listed below under the community name, with a citation to a newspaper story that describes them. You may also find newspaper accounts in our online collection of Wisconsin Local History & Biography Articles.
Ashland
Fire of Sept. 23, 1893, Ashland Daily Press, Jan. 14, 23, 1935
Fire in Soo Ore Docks, Nov. 22, 1902, Ashland Daily Press, Apr. 1, 1935
Baldwin
Downtown fires, 1884, 1893, Baldwin Bulletin, Dec.3, 1948
Blair
Fire of July 27, 1891, Blair Press, July 26, 1945
Cambridge
Fire of May, 1890, Cambridge News, May 27, 1948
Door County
Forest fire of October, 1871, Sturgeon Bay Advocate, Oct. 5, 1945
Hinckley
Fire of September 4, 1894, Ashland Daily Press, Apr. 23, 1935
Iron River
Fire of July 24, 1892, Ashland Daily Press, Feb. 2-5, 1935
Janesville
Hyatt House Hotel Fire, Janesville Gazette, Jan. 11, 1947
Jefferson
Fire of Aug. 1901, Fort Atkinson, Jefferson County Union, Aug. 28, 1951
Kenosha
Halliday Hotel Fire, Feb. 1871 Kenosha News, Feb. 7, 1925
Madison
State Capitol fire, Feb. 27, 1904, Madison, Wisconsin State Journal, Feb. 27, 1904, March 2, 1924, Feb. 17, 1945
Science Hall fire, Dec. 1, 1884, Madison, Wisconsin State Journal, Dec. 2, 1884
Bascom Hall fire, Oct. 10, 1916, Milwaukee Journal, Oct. 10, 1916
Marshfield
Fire of June 27, 1887, Marshfield News-Herald, June 27, 1937
Menasha
Whiting Paper Co. fire and explosion, Aug. 23, 1888, Madison, Wisconsin State Journal, Aug. 23, 1888
Milwaukee
Newhall House fire of Jan. 10, 1883, Milwaukee Daily Journal, Jan. 10, 1883 and following issues, Milwaukee Journal, Jan. 7, 1923, Jan. 11, 1923.
Third Ward fire, Oct. 28, 1892, Milwaukee Journal and Sentinel, Oct. 29, 1892, Milwaukee Journal, Oct. 25, 1925, Oct. 22, 1933
Davidson Theater fire, Apr. 9, 1894, Milwaukee Journal, Apr. 10, 1894
Oregon
Fire of 1905, Brooklyn Teller, March 3, 1950
Park Falls
Downtown fire, Jan. 11, 1909, Park Falls Herald, Jan. 10, 17, 1952
Peshtigo
See the separate entry on the Peshtigo Fire
Phillips
Fire of July 27, 1894, Phillips Bee, July 28, 1949, Mosinee Times, Aug. 30, 1944; Phillips Times, July 29, 1922, Milwaukee Sentinel, July 27, 1895.
Port Washington
Fire of Feb. 19, 1899, Port Washington Herald, Feb. 13, 1930; Ozaukee Press, Feb. 17, 1949.
Racine
Fire of May 5, 1882, Racine Daily Journal, May 6, 1882, Racine Journal, May 10, 1923
Rhinelander
Fire of 1905, Rhinelander News, Aug. 28, 1948
Ripon
Grand View Hotel fire, Feb. 1, 1949, Ripon Weekly Press, Feb. 3, 1949, Feb. 10, 1949
Shell Lake
Fire of 1894, Shell Lake Register, Aug. 31, 1944
Superior
Great Northern elevator fire, Nov. 1, 1907, other Superior fires, Superior Telegram, Nov. 23, 1934
Tomahawk
Fire of March, 1929, Tomahawk Leader, March 6, 1952
Vesper
Fire of August 28, 1894, Wisconsin Rapids Tribune, June 29, 1944
Waterford
Fire of 1897, downtown, Waterford Post, Jan. 3, 1947
Waukesha
Several fires noted in Waukesha Freeman, March 29, 1949
Wautoma
Burning of Coon Hotel, 1871, Wautoma Argus, Aug. 25, 1938
West Bend
Fire of 1893, West Bend News, Dec. 16, 1948
West Salem
Business section fire of July 1, 1911, West Salem Nonpareil-Journal, July 1, 1948
[Source: "Disasters in Wisconsin History." Badger History 33:2 (1979); WHS Library reference file]
Learn More
See more images, essays, newspapers and records about fires in Wisconsin.

Dictionary of Wisconsin History
Explore more than 1,600 people, places and events in Wisconsin history.