Historical Essay
Gillespie, Ezekiel (1818-1892)
Black Voting Rights Activist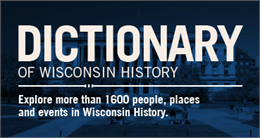 Enlarge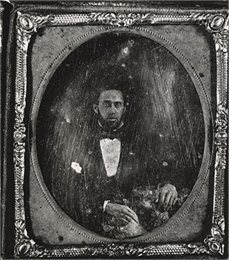 Daguerreotype of Ezekiel Gillespie, ca. 1840s. Gillespie's attempt to vote in Wisconsin's 1865 general election led to a lawsuit that extended voting rights to black men in Wisconsin. WHI IMAGE ID 129509 View the original source document: WHI 129509
b. Greene County, Tennessee, 1818
d. Chicago, Illinois, March, 1892
Exekiel Gillespie was a leader in Milwaukee's African American community. Gillespie moved to Milwaukee from Indiana around 1851 and became active in its small Black community, focusing on voting rights issues. In 1865, he attempted to register to vote under the provisions of the 1848 constitution. He was denied the right to register by county officials, and took them to court with the help of attorney Byron Paine. The Wisconsin Supreme Court unanimously ruled that African Americans could vote in 1866, and had been entitled to since 1849.
Enlarge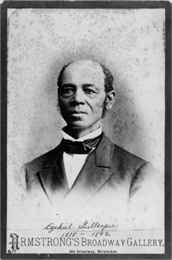 Head and shoulders portrait of Ezekiel Gillespie. Gillespie was born in 1818 and died March 31, 1892. In 1866, Milwaukee's Ezekiel Gillespie successfully sued for the right to vote. View the original source document: WHI 33362
View more information in an article about Gillespie in the Wisconsin Magazine of History. Read the transcript of the court case that established African American suffrage in Wisconsin.
View a related article at Wisconsin Magazine of History Archives.
Learn More
See more images, essays, newspapers and records about Ezekiel Gillespie.
Dictionary of Wisconsin History
Explore more than 1,600 people, places and events in Wisconsin history.