General Information
Wisconsin Scavenger Hunt
Enlarge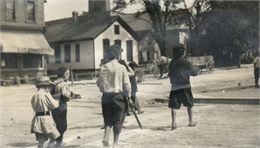 Follow the Leader
A group of boys "following their leader in search of adventure" in the street. The boys are barefoot and are wearing hats. In the background are a storefront, houses, and wooden wagons. View the original source document: WHI 65110
Happy Holidays from the Wisconsin Historical Society! We've created this scavenger hunt you can do in a safe, socially distanced way — from your car or on a walk. We encourage you to get out and find all the things you love about your home or adoptive state. Bring your family or just the dog! Take pictures of you and your finds and share them on social media! Be sure to tag us with #wisconsinhistory.
Download the 2022 Wisconsin Scavenger Hunt here! (PDF, 65 MB)
Did you find everything? Print out our 2022 Scavenger Hunt Certificate of Completion! (PDF, 360 KB)
---
Learn More
Resources for Local Historical Societies
Have Questions?
Contact:
Janet Seymour
c/o University of Wisconsin-Eau Claire
105 Garfield Avenue, Hibbard 728
Eau Claire, WI 54701-4004
Phone: 715-836-2250