Classroom Material
Stephen Bonga - Voyageur of the Northwest
Learn more about the history of Stephen Bonga and the Fur Trade
Enlarge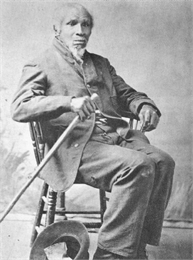 Portrait of Stephen Bonga
Stephen Bonga (also known as Stephen Bunga), a member of the Fond du Lac Band of Lake Superior Chippewa, was a voyageur and fur trader who lived in the northwestern Wisconsin territory. View the original source document: WHI 55160
Note: This is a grade-level appropriate biographical essay about a significant figure from Wisconsin's past.
Voyageur. Fur trader. Hunter. Trapper. What comes to mind when you read those words? What do you see? Maybe you see a young Ojibwe trapper setting snares. Or do you see a huge canoe filled with twenty men crashing down the Mississippi River? Or maybe you're picturing . . . a top hat?
What was the fur trade? It was a time in Wisconsin's history when nearly every person in the region was involved in the buying, selling, trading, hunting, and trapping of animals for their fur. Native and non-native hunters and trappers traded pelts for European goods such as metal tools, muskets, glass beads, mirrors, and much more. Beaver pelt was the most valuable pelt of the era. It was used to make waterproof top hats that were very popular in Europe. And Stephen Bonga was one of the best traders of his time.
Stephen's grandparents were Jean and Jeannie (also spelled Jeanne and Jeanie) Bonga. Jean and Jeannie were enslaved Black persons who were freed in 1787. Their son Pierre and his wife, Ogibwayquay, had Stephen in 1799. Stephen was an enrolled member of the Fond du Lac Band of Lake Superior Chippewa. This meant that the United States government and the Ojibwe nation recognized his tribal membership.
Stephen was sent to school to become a missionary, but he eventually quit and returned home. Instead, he became an interpreter and a fur trader, both very much in demand. As a fur trader, Stephen dealt with both the voyageurs who transported goods in giant canoes and the hunters and trappers who provided the pelts. Being fluent in English, French, and Ojibwe meant that Stephen could help each side bargain with and understand the others. As an employee of the American Fur Trade Company, he was put in charge of the trading post on Basswood Lake for five years. His skills were also important to the US government. Stephen Bonga helped negotiate the 1837 White Pine Treaty at Fort Snelling, Minnesota, where the Ojibwe people ceded ownership of thousands of acres of land, but not their rights to use that land.
Perhaps the greatest trial of Stephen's life would be the Sandy Lake Tragedy during the winter of 1850. Stephen accompanied his wife, also an Ojibwe tribal member, to Sandy Lake, Minnesota, where the US government had promised to provide food and pay money owed to the nation. When the Ojibwe arrived, there was nothing there for them. No food and no payments. Winter was coming. Diseases ran through the camp. The Ojibwe people were starving to death, hoping for the government to keep its promises. The survivors decided to return home. With the rivers and lakes frozen over, they had no choice but to walk. This walk became known as the Wisconsin Death March. Over four hundred Ojibwe died of starvation, disease, and exposure.
Stephen survived. He later left the fur trade and became a guide and interpreter for the painter Eastman Johnson. The famous artist traveled the Great Lakes region painting the lifeways of the Ojibwe people. Stephen Bonga died in 1884 near his birthplace at Park Point. He was a well-respected African American member of both the Native and non-native communities of the Minnesota–Wisconsin border region.
---
Reading Level Correlations
Sources