Historical Essay
Canoeing Border Country: The Images of Howard Greene - Image Gallery Essay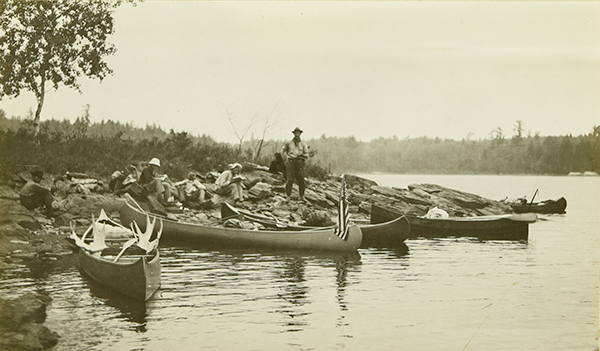 Lunch Stop at Sand Point
The Gang stopping at Sand Point for a lunch break. The canoes are at the edge of the shoreline, while everyone is sitting on the ground eating. View the original source document: WHI 128536
Enlarge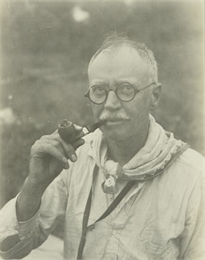 Howard "Dad" Greene
A candid portrait of Howard Greene, who is known to The Gang as Dad. View the original source document: WHI 127355
Shortly after the turn of the 20th century, Howard Greene, a Milwaukee businessman, began venturing out into the wilderness on a series of month-long canoe camping journeys. During the summers of 1906 to 1916 he and his camping party paddled waterways along the northern borders of Michigan, Minnesota, and Wisconsin. While camping he created hundreds of large format photographs, utilizing both glass and film negatives, often developing the images while in the field. Many of Greene's historic images are now available to view on this site.
Greene photographed the stunning landscapes of the Northwoods, including finely detailed nature pictures. He documented Native Americans in their homes and villages before they were restricted to preserves and reservations. Daily camp life was candidly recorded. Settlements, cabins, mines, and dams are also featured, reflecting the era's duality of appreciation for both conservation and development.
Enlarge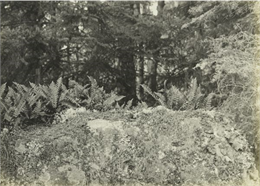 Ferns
Ferns, rocks, and foliage near Kabetogama Lake. View the original source document: WHI 127778
A typical photography experience on his trips is found in the "Tower to Ranier" (1915) journal. Greene said "I had an opportunity to make some photographic studies of mosses. A huge square block of rock is covered with ferns and looks like a bit of green-house planting…I made a study of some bluebells and wild grasses … The bluebells are so light that the slightest breeze keeps them moving and I think they will be hard to picture."
Enlarge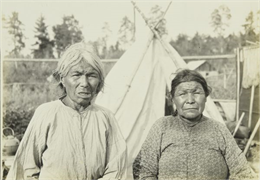 Two Indian Women
Two elderly women posing in front of a tipi (teepee) at a settlement near Moose River. View the original source document: WHI 127777
Although he was an amateur photographer, Greene's informal portraits of people are stunning in their ability to draw the subject out and the viewer in. Whether photographing fellow campers, old Ojibwe women, or a reclusive fur trapper, he was able to make a strong connection with his subject.
About Howard Greene, the Journals, and Photographs
Greene (1864-1956) was born in Milwaukee, Wisconsin. He attended secondary school there, and went on to the University of Wisconsin, graduating in 1886. After graduation he returned to Milwaukee, married, had a family, and developed the Milwaukee Drug Company, a wholesale drug company. He later served in the Spanish American War.
By 1906 Greene longed to get away from the city and began a decade's worth of annual wilderness canoe trips in the company of a few friends, his young son, and some of their friends. Documenting daily life in camp through note and photographs, he later made a bound journal for each trip, for each camper.
Each of the eight journals features a different canoe route, and has special features:
The Wisconsin River, 1906, covers the Wisconsin River from Conover, to Wisconsin Dells. This journal is comprised of a series of letters home to Milwaukee and did not include photographs.
The St. Croix River Trip, 1907, began at Gordon and ended at St. Croix Falls. This trip featured many images of log drives, dams, and Native American settlements.
Enlarge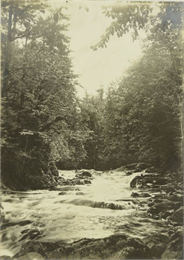 Cascades
Cascades on the Presque Isle River near The Gang's camp. View the original source document: WHI 127887
The Gang on the Presque Isle River, 1909 is on the Presque Isle River in Michigan's Upper Peninsula, a dangerously-steep river that the group paddled on the recommendation of someone not familiar enough with the river there were no canoe guide books in 1909, and few reliable maps of this region. The group survived, without serious accident, and the photographs of their ordeal are interesting for their subject and technical difficulty.
The Rambles of the Gang in the Rainy Lake Country, 1910, began at Ely, Minnesota in the heart of what is now the Boundary Waters Canoe Area, travelling through a series of inland lakes, across many portages, and ending at Ranier, Minnesota on Rainy Lake. Included are pictures of camps, canoes, Ojibwe burial sites and villages, petroglyphs, a gold mine, and beautiful landscapes.
The Gang on the Dawson Trail, 1911. This journey begins at Atikokan, Ontario, Canada, travelling through what is now the Quetico Provincial Park and the Boundary Waters, and ending at Ranier, Minnesota. Camp life, small lakes, and portages continue here, with many more images of Ojibway people and villages, an old Hudson's Bay post, and beautiful waterways.
Enlarge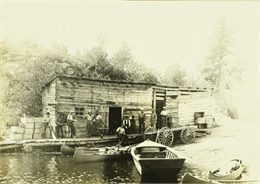 G. Swenson Store
The Gang standing in front of G. Swenson's Store in Kettle Falls. View the original source document: WHI 127567
The Gang and the Pigeon Outfit, 1914. The Pigeon River, a border River in Northern Minnesota, provided a base-camp experience for the paddlers, who set up camp by an old logging camp on McFarland Lake. Many of the images here are of logging camps, an immigrant trapper's home, and life and trips out onto the chain of lakes in the area.
Pack and Paddle from Tower to Ranier, 1915. The trip began in Tower, Minnesota, following the Vermillion River into what is now Voyageurs National Park, and ending at Ranier, Minnesota on Rainy Lake. Images of Ojibwe settlements, whitewater and lakes, and dam building were captured, rounding out this last trip into the Northern Minnesota boundary area.
The Chippewa River, 1916. Beginning at Glidden, Wisconsin, this trip features nature and landscape photography, along with many camp pictures. A relatively short trip, it ended at Holcombe, Wisconsin, ahead of schedule, because of a threatened railroad strike.
After 1916, with the nation on the verge of entering World War I, Greene's trips with family and friends came to a halt. The boys went off to war or college and two dear friends passed away, leaving him without his old canoe companions. Throughout his long life, Greene continued to enjoy photography, making family portraits and candid images, and enjoying nature photography.
An avid historian, Greene served on the Wisconsin Historical Society's Board of Curators from 1919-1938, and was an active member of many other historical societies. Shortly before his death (1956) Greene edited and published, with the Wisconsin Historical Society, his grandfather's journals: "The Journals of Welcome Arnold Greene, The Voyages of the Brigantine Perseverance, 1817-1820" He also privately published, in 1936, a biographical study of his great uncle, titled, "The Reverend Richard Fish Cadle, a missionary of the Protestant Episcopal Church in the Territories of Michigan and Wisconsin in the Early Nineteenth Century."
In 2017, the University of Minnesota published "Border Country. The Northwoods Canoe Journals of Howard Greene, 1906-1916". Written by his daughter, Martha Greene Phillips, the book includes complete narratives from the above eight journals, supplementary notes, and about 260 of Greene's images from the trips.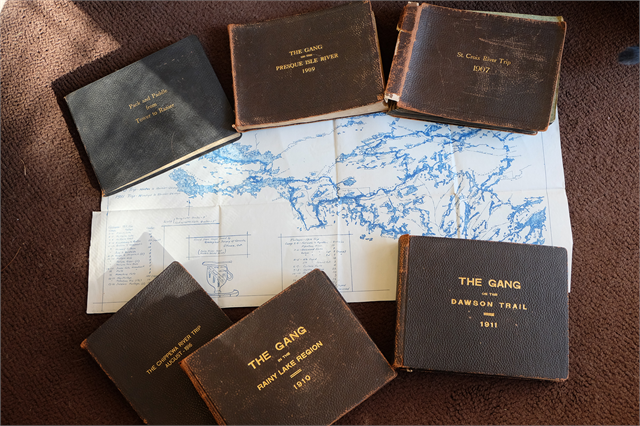 Howard Greene photography journals and map
Visit the Gallery
Browse Photographs from the Howard Greene Northwoods Canoe Journals Collection