Historical Essay
Wilcox, Ella Wheeler (1850-1919)
Poet and Temperance Advocate
Enlarge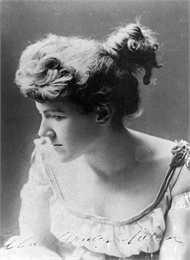 Ella Wheeler Wilcox
Studio portrait of Ella Wheeler Wilcox wearing a gown. View the original source document: WHI 11203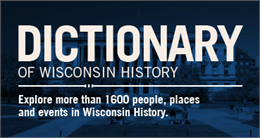 b. Johnstown, Wisconsin, 1850
d. Short Beach, Connecticut, October 1919
Ella Wheeler Wilcox was a poet and author, most famous for the lines "laugh, and the world laughs with your; Weep, and you weep alone" from her work "Solitude." Her most famous work was "Poems of Passion," published in 1883.
Wilcox was born on a farm near Johnstown in Rock County in 1850. She moved to Westport, Dane County, as a child. She attended the University of Wisconsin from 1867 to 1868.
Poetry
Wilcox began writing at an early age and had published numerous poems by the time she was eighteen. Her first book of poetry, "Drops of Water" (1872), a temperance work, was followed by "Shells" (1873) and "Maurine" (1876). She then worked briefly on a trade journal in Milwaukee, but soon returned to her family's farm in Westport, where she devoted her time to creative writing.
Enlarge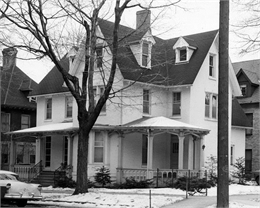 The Braley House, 1955
Exterior of the Braley family house located at 422 North Henry Street in which Ella Wheeler Wilcox wrote "Laugh And The World Laughs With You, Cry and You Cry Alone." View the original source document: WHI 11177
Her first major success, "Poems of Passion" (1883), had a wide circulation. The work garnered publicity after being rejected on the grounds of immorality. Among her other works were "Sweet Danger," "Men, Women and Emotions" and "Poems of Pleasure."
Later Life
In 1884, after her marriage to Robert M. Wilcox, she left Wisconsin and settled in Connecticut. After her husband died in 1916, she became an advocate of spiritualism. During World War I, she was active in Red Cross work with the A.E.F. in France.
Although never receiving critical acclaim, her sentimental "escape" literature found a receptive audience and made her a popular writer of her generation.
Learn More
See more images, essays, newspapers and records about Ella Wheeler Wilcox.
Dictionary of Wisconsin History
Explore more than 1,600 people, places and events in Wisconsin history.
Source: Dict. Amer. Biog.; E. W. Wilcox, Worlds and I (New York, 1918); J. Ballou, Period Piece (Boston, 1940); M. P. Wheeler, Evolution of E. W. Wilcox (Madison, 1921). Dictionary of Wisconsin biography