Historical Essay
Dubay (Dube), John Baptiste (1810-1887)
Fur Trader and Murderer
Enlarge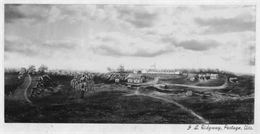 Fort Winnebago
Photographic copy of a painting depicting Fort Winnebago, made by I. A. Ridgway of Portage, Wisconsin. Fort Winnebago was built in 1827 by Major William Whistler and a detachment of the First Infantry. Subsequent construction was carried out under Lieutenant Jefferson Davis, and the fort was abandoned in 1840. View the original source document: WHI 28343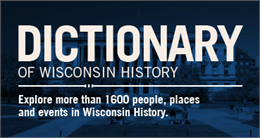 b. Green Bay, Wisconsin, 1810
d. Stevens Point, Wisconsin, January, 1887
John Baptiste Dubay — Dube — was a pioneer fur trader who frequently served as an Indian interpreter to the U.S. and territorial governments. He was born in Green Bay on July 10, 1810, to a French trader father and a Menominee Indian mother.
Fur Trade
The history of Dubay's life is obscure. But records indicate that from 1824 to 1839 he was engaged in the fur trade at Saginaw and Sault Sainte Marie, Michigan and Lac du Flambeau, Wisconsin. He either worked for the American Fur Company or operated his own posts. In 1839, he purchased the American Fur Company's post at Fort Winnebago where he served as Hercules L. Dousman's agent until 1851. He continued his residence in the Portage area until 1858.
A colorful and well-known figure in early Wisconsin, Dubay frequently served as an Indian interpreter to the U.S. and territorial governments. He also advocated on behalf of the Indians.
Murder Trial
In 1857, while living near Portage, Dubay became involved in a property dispute with William S. Reynolds. Dubay shot and killed Reynolds while drunk. A widely publicized murder trial was held in Madison. Many of Wisconsin's leading figures testified on Dubay's behalf. Moses M. Strong and Harlow S. Orton defended Dubay while Luther S. Dixon acted as assistant prosecutor. The jury failed to reach a verdict in the first trial. A second trial produced the same result. Although one other attempt was made to renew the case, the proceedings were eventually dropped. DuBay retired to a trading post north of Stevens Point, where he lived in obscurity until his death in 1887.
Learn More
See more images, essays, newspapers and records about Jean Baptiste Dubay.
Dictionary of Wisconsin History
Explore more than 1,600 people, places and events in Wisconsin history.
[Source: M. E. Krug, DuBay (Appleton [19461); Hist. of N. Wis. (Chicago, 1881); WPA MS. Dictionary of Wisconsin biography]