Historical Essay
Duluth [Dulhut], Daniel Greysolon Sieur (1639-1710)
Explorer and Trader
Enlarge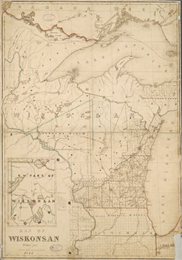 Map of Wiskonsan, 1844
Map of Wisconsin including Lakes Michigan and Superior. The "Wiskonsan" spelling of the state name is used. View the original source document: WHI 36988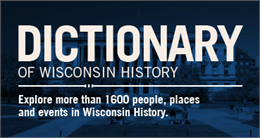 b. Saint-Germain-Laval France, ca. 1639
d. Montreal, February 1710
Daniel Greysolon Sieur Duluth was a French explorer and trader who explored Lake Superior in 1678 in the hope of discovering a route to the western ocean. Born in St. Germaine-Laval, France, Duluth served in the King's guard before migrating to Canada.
He established peace between the Sioux and Chippewa. In 1679, he made an alliance with the Siouan Confederacy that gave France possession of Sioux territory, which made the region safer for traders.
Coureur de Bails
Duluth ascended the Brule River in 1680, portaged to Upper St. Croix Lake and descended the St. Croix River to the Mississippi. He was probably the first white man to utilize the route. He returned to Mackinac by the Wisconsin and Fox Rivers. At Mackinac, he learned that his enemies had accused him of being a "coureur de bails" — an unlicensed trader.
Iroquois
He returned to France where he was freed of the charge and received a commission to traffic with the Sioux by way of the Wisconsin River. He spent the rest of his life exploring and conducting a profitable Indian trade in Wisconsin. He helped protect the Wisconsin area against raids by the Iroquois. He also maintained the loyalty of France's Indian allies, promoting French ascendancy throughout the Midwest.
He retired from active trading in 1695 and lived in Montreal until his death.
Learn More
See more images, essays, newspapers and records about Daniel Greysolon Duluth.
Dictionary of Wisconsin History
Explore more than 1,600 people, places and events in Wisconsin history.
[Sources: Dict. Amer. Biog.; L. P. Kellogg, ed., Early Narratives of the Northwest (New York, 1917); L. P. Kellogg, French Regime in Wis. . . . (Madison, 1925); Colls. State Hist. Soc. Wis., 16 (1902); Proc. and Trans. Royal Soc. of Canada, ser. 2, 9 (1903).]