Historical Essay
Cadotte, Michael, 1764-1837
Pioneer Fur Trader
Enlarge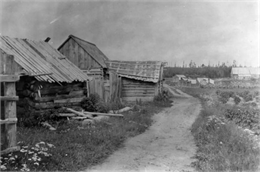 Probable Site of Michael Cadotte's House
This part of Madeline Island in La Pointe, Wisconsin, was probably the home of Michael and Ikwesewe (Madeline) Cadotte, for whom the island was named. View the original source document: WHI 3537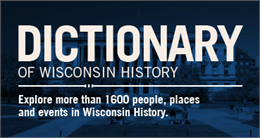 b. Saulte Ste. Marie, Michigan, July 22, 1764
d. La Pointe, Wisconsin, July 8, 1837
Michael Cadotte was a successful fur trader in 18th and early 19th century Wisconsin.
Madeline Island
Cadotte was born in Saulte Ste. Marie, Michigan in 1764. Sometime after 1792, Cadotte established a trading post at La Pointe on Madeline Island. From this advantageous site he built a large and flourishing fur trade that served northern Wisconsin and parts of Minnesota.
Flourishing Fur Trading Post
His marriage to Ikwesewe, the daughter of an Ojibwe chief, and his sympathetic understanding of the Indians won him the affection of local tribes. It also gained him a monopoly of their trade.
For a time, Cadotte was one of the most successful traders in the area, but the invasion of the American Fur Company plus a disastrous raid by a band of Ojibwe Indians in 1811 eventually broke him. Cadotte was forced to become an agent of John Jacob Astor's American Fur Company.
Before his death in 1837, Cadotte sold his fur interests and retired. He died on July 8, 1837, and was buried at La Pointe.
Learn More
Read 'The Story of Chequamegon Bay'
An article by Reuben Gold Thwaites. Wisconsin Historical Collections, Volume 13
Read More About the French Fur Trade in Wisconsin
See More About La Pointe, Wisconsin
The community of La Pointe is on Madeline Island, the largest of Wisconsin's northern Apostle Islands. Madeline Island is named after Michel Cadotte's wife, Ikwesewe (Madeline) Cadotte.
[Sources: W. S. Wallace, ed., Documents. North West Co. (Toronto, 1934); Colls. Minn. Hist. Soc., 5; Washburn Times, Aug. 11, 1927; Colls. State Hist. Soc. Wis., 5 (1868), 13 (1895); WPA MS]