Historical Essay
Catlin, John, 1803-1874
Brief biography of pioneer lawyer, politician and railroad man John Catlin.
b. Orwell, Vermont, October 13, 1803
d. Elizabeth, New Jersey, August 4, 1874
Enlarge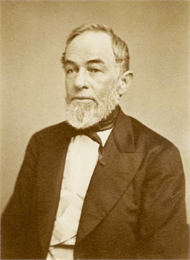 Honorable John Catlin
Madison, Wisconsin. This photograph originally appeared in the book "History of Madison and Four Lake Country" by Daniel S. Durrie. View the original source document: WHI 39331
John Catlin was a pioneer lawyer, politician, and railroad man in territorial Wisconsin. He served as Dane County's first lawyer, first district attorney and first county judge.
Born in Orwell, Vermont, Catlin attended Newton Academy in Shoreham, Vermont, and taught school for nine years. After studying law, he was admitted to the bar in 1833.
In 1836, Catlin moved to Wisconsin. He settled in Mineral Point where he practiced a short-lived law partnership with Moses M. Strong. In 1838, he moved to Madison where he helped survey a capitol site, platted lots, and established a land agency. Later, he started a private banking business, and in 1846, with E. M. Williamson, established an abstract office.
Political Career
Catlin was a Democrat. He served as first clerk of the territorial supreme court (1836- 1839), chief clerk of the territorial house of representatives (1837-1844), and was a member of the territorial council (1845-1846). He was secretary of the Territory of Wisconsin (1846-1848), and was first district attorney for Dane County (1839-1843). From 1837 to 1844, with the exception of the brief period of William Henry Harrison's presidency, he served as postmaster of Madison.
Career in Railroads
In 1852, after Byron Kilbourn was forced out of the presidency of the Milwaukee & Mississippi Rail Road Company, Catlin became president of the strife- and debt-ridden line. While holding this office (1852-1857, 1858-1861), he spent much of his time involved in fundraising campaigns in New York. He settled in Milwaukee in the late 1850s. Despite his attempts to keep the railroad on its feet, the line's financial difficulties increased. In 1861, the company was deeded to the Milwaukee & Prairie du Chien Railway Company and eventually became part of the Milwaukee Road.
Catlin retired from active business life in 1863 and moved to Elizabeth, New Jersey, where he died in 1874. Catlin was buried at Mount Hope Cemetery in New York.
Learn More
View the Wikipedia article for John Catlin.
Learn more about Wisconsin's railroads.
[Sources: Madison Wis. State journal, Aug. 4, 1874; Colls. State Hist. Soc. Wis., 7 (1876); D. S. Durrie, Hist. of Madison. (Madison, 1874); A. W. Derleth, Milwaukee Road (New York, 1948); WPA MS; J. Catlin Papers.]