Historical Essay
Carr, Ezra Slocum (1819-1894)
Brief biography of University of Wisconsin chemistry and natural history professor, Ezra Slocum Carr.
b. Stephentown, New York, March 9, 1819
d. Pasadena, California, 1894
Enlarge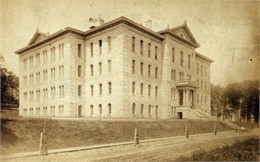 University of Wisconsin, Science Hall, 1880 ca.
View across Park Street of Science Hall at the base of Bascom Hill on the University of Wisconsin Madison campus. Science Hall was damaged in a fire in 1884, and replaced with the current building in 1888. View the original source document: WHI 24996
Ezra Slocum Carr was a physician, educator, and professor. Born in Stephentown, New York, he was educated at Rensselaer Polytechnic Institute and graduated with an M.D. from Castletown College in Vermont in 1842.
He taught at several medical colleges in the East before coming to the University of Wisconsin (UW) in 1856 as professor of chemistry and natural history. He was a UW regent (1857-1859) and served as commissioner of the state geological survey. Active in political, agricultural, and medical affairs at the UW, Carr was recognized for his intellectual ability, but his tactlessness involved him in numerous controversies.
In 1867 Carr's contract was not renewed. He moved to California where he became a professor of agriculture at the University of California for six years. He was later California state superintendent of public instruction. He wrote extensively on agriculture and chemistry.
Learn More
Link to a listing for the short biographical entry about Ezra Slocum Carr.
Learn more about the University of Wisconsin.
[Source: M. Curti and V. Carstensen, University of Wisconsin (2 volumes, Madison, 1949); Journal of Chemical Education, 29:65 (1952); WPA MS. Dictionary of Wisconsin History]