Historical Essay
Survey, Rectangular
History of the U.S. Rectangular Survey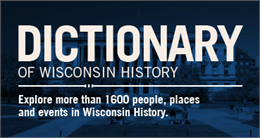 The rectangular survey, also called the "Public Land Survey System," is how the U.S. General Land Office system measures and names land. The survey created a matrix of six-mile-square townships designated by their relationship to a north-south line called a meridian and an east-west line called a baseline. Each township could then be labeled according to its location east or west of the meridian and north or south of the baseline; town 11N4E, for example, embraces Baraboo.
The Dept. of Natural Resources offers an excellent short tutorial on the system on the Wisconsin DNR web site.
A map of the entire state showing the location of each township is maintained by UW-Extension.
More information about the G.L.O. survey in Wisconsin as well as digital images can be found in the surveyors' original field notes.
Learn More
See more images, essays, newspapers and records about the Public Land Survey System in Wisconsin.

Dictionary of Wisconsin History
Explore more than 1,600 people, places and events in Wisconsin history.