Historical Essay
Wisconsin Territory
A Brief History of Wisconsin before Statehood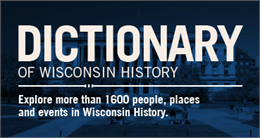 Wisconsin became a territory in 1836. Before then, it was successively part of the Northwest Territory (1788-1800) and the territories of Indiana (1800-1809), Illinois (1809-1818), and Michigan (1818-1836). Its population was 11,683 when the territory was chartered in 1836, 30,749 in 1840, and 155,277 in 1846.
Learn More
See more images, essays, newspapers and records about Wisconsin.
Dictionary of Wisconsin History
Explore more than 1,600 people, places and events in Wisconsin history.
[Source: Wyman, Mark. "The Wisconsin Frontier," Bloomington: Indiana University Press, 1998]