General Information
Newspaper and Periodical Article Search Request Service
Let us help you find an article in a newspaper or periodical in our collections.
Enlarge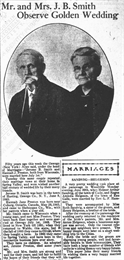 Sample Article: Spring Valley Sun, 1919
This article is a good example of what might be found for you in a search for an anniversary celebration. To purchase our Newspaper Article Search services, click the blue "Start Your Order" button on this page.
Let us help you find an article in our collection of newspapers and periodicals, which ranks second only to that of the Library of Congress.This includes newspapers and periodicals in the U.S. and Canada. If you are interested in newspapers outside of Wisconsin, please verify our holdings for your newspaper of choice in our online catalog at the following link: https://search.library.wisc.edu/
This service is best for items that have a particular date associated with them, such as election results, natural disasters, birth and marriage announcements, anniversary celebrations and other specific local events. Most newspapers and periodicals are not indexed, so it is important to provide as much information as you have available concerning the date and location.

Staff will search for one article in up to two different newspapers or periodicals per request. The search includes up to 7 issues of a daily paper or 4 issues of a weekly paper. The search of an article in a periodical includes the specific periodical that is requested.
Payment covers the search time, regardless of whether a search is successful.
*Please note the amount of information in a newspaper article we find for you may vary greatly. If an article is found, staff will search one additional issue of the newspaper to locate other related articles.
If your order request results in more extensive searching, your request will be forwarded to asklibrary@wisconsinhistory.org at staff discretion.
Research Prices: $15 per request
Wisconsin Historical Society members: 10% discount applied during checkout.
Document Delivery time:
Delivery could take up to 21 days. Longer delivery time expected around holidays.
Information needed to start order:
Full Name
Date of Event (mm/dd/yyyy)
City/Township
County
State
Notes (please indicate any additional information to help us perform a successful search for you)