Guide or Instruction
About the Wisconsin History Website Award
Submission Guidelines
Enlarge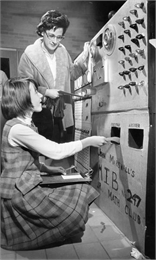 The Answer Machine, 1963
A question is fed into a "computer" created by the mathematics club at John Marshall Junior High School. This was a project in observance of American Education week. View the original source document: WHI 8330
The Wisconsin Historical Society invites nominations for its Wisconsin History Website Award. The award is given to the creators of the website that makes the most valuable contribution to presenting Wisconsin history during the previous year.
Eligibility
Website must be online and publicly accessible
Website must contain substantial Wisconsin history content
Award Criteria
Quality of storytelling or analysis
Quality of sources and documentation
Quality of Web design (both visually and structurally)
Accessibility and ease of use
Innovative use of technology
The judges may include Society staff or board members and others invited to participate in the evaluation process. The judges reserve the right to make more than one award or, conversely, to make no award in any given year. The decision of the judges is final.
Due Date
March 15 each year (postmarked or delivered)
How to Apply
Please fill out the nomination form (PDF, 87 KB) and submit a description not to exceed two double-spaced pages describing how the site meets the above criteria.
Send applications to:
Wisconsin Historical Society
Attn: Michael Edmonds
816 State Street
Madison, WI 53706
Awards are initially reviewed by a committee of judges appointed by the Society and then approved by the Awards Committee of the Board of Curators. The date and presentation of the award will be made at a time and location convenient for the recipient. Employees and members of the Board of Curators of the Wisconsin Historical Society are not eligible to receive awards.
Have Questions?
Please email Michael Edmonds or call him at 608-264-6538