General Information
Local History - Historic Preservation Conference
2019 Annual Conference
Thirteenth Annual Local History and Historic Preservation Conference
Registration is open for the 2019 conference at the Grand Geneva Resort in Lake Geneva on October 25-26, 2019! You can expect one full day and one half day of sessions, workshops, events, tours, and ample opportunity to make new connections and catch up with your local history and preservation partners from all across the state.
Conference Registration
Hotel Reservations
Hotel rooms are available at the Grand Geneva Resort at a reduced conference rate of $82 per night. The resort includes many onsite restaurants, cafés, and bars as well as two golf courses, the Well Spa + Salon, and an indoor pool.
Grand Geneva Reservation Policies:
A refundable deposit equal to one night stay is required at the time of booking and will be charged to your credit card.
Reservations may be cancelled by 4:00 PM at least 72 hours prior to arrival to avoid a one night penalty charge.
Please follow these instructions to receive the conference reservation rate:
Online: Use the special Wisconsin Historical Society reservation link provided by the Grand Geneva.
Phone: Call 844-759-2908 and ask for the Wisconsin Historical Society Conference rate.
Keynote Speakers
John Gurda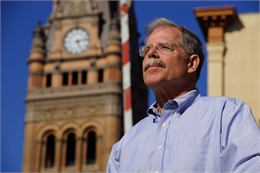 John Gurda is a Milwaukee-born writer and historian who has been studying his hometown since 1972. He is the author of twenty-one books, including histories of Milwaukee-area neighborhoods, churches, and industries. He is also a photographer, lecturer, and local history columnist for the Milwaukee Journal Sentinel. Gurda is an eight-time winner of the Wisconsin Historical Society's Award of Merit. The common thread in all his work is understanding history as "why things are the way they are."
Gurda wrote, co-produced, and hosted Milwaukee: A City Built on Water, a one-hour documentary broadcast on Milwaukee Public Television in 2015 as well as a companion book available from the Wisconsin Historical Society Press.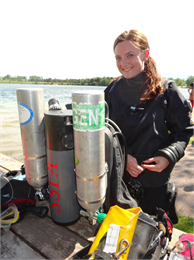 Caitlin Zant
Caitlin Zant joined the Wisconsin Historical Society as a maritime archaeologist over five years ago after attending the Maritime Studies Program at East Carolina University in Greenville, North Carolina, for graduate school. In her six years of working as a maritime archaeologist, Caitlin has been involved with over 35 archaeological projects and has assisted in nominating 20 shipwrecks to the National and State Registers of Historic Places. Caitlin has primarily focused her studies on the maritime history of the Great Lakes, specifically within Wisconsin. Prior to becoming a maritime archaeologist, Caitlin studied History and Geography at Carthage, graduating in 2012.
Tours and Special Events!
Wisconsin Journey Tours: Old World Wisconsin is just 35 minutes away from the Grand Geneva. On your way to the conference on Thursday afternoon you can take the new interactive Wisconsin Journey Tour. Thursday's tour will include a special 30 minute discussion with staff about how they developed the tour and what they learned. You can also take sign up to take this tour on your way home from the conference on Saturday afternoon!
Mini-Grant Fundraising Reception: Enjoy a pre-conference party for a cause! Tickets are $25 for this appetizer and cash bar fundraiser with proceeds supporting the Wiconsin Council for Local History's mini-grant program.
Lake Geneva Walking Tours: On Friday evening or Saturday afternoon you can learn the colorful past of Lake Geneva and see buildings designed by some of America's most famous architects including Daniel Burnham, Frank Lloyd Wright, and William Le Baron Jenny.
Student and Young Professional Meet-up: Students and emerging professionals under 35 are invited to meet up on Friday night at the Maxwell Mansion where you can explore this 1856 mansion and try a drink from the Apothecary Bar or the Speakeasy.
Have Questions?
Contact us at lhhpconference@wisconsinhistory.org.
Learn More
Resources for Local Historical Societies
Preserve Your Homes and Properties
SAVE THE DATE FOR FUTURE CONFERENCES