Classroom Material
Using Architectural History to Raise Community Awareness
Grade Level: Secondary
Duration: Multiple class periods
Students will learn about the basics of architectural history and historic preservation using research, documentation, and analytical skills to decode the meaning and value of historic properties in their own communities. Lessons will call attention to local and community history, architectural history, building material components, and surveying historic properties.
This activity would be excellent for the integration into history, art, architecture, humanities, building trades, and geography courses.
Enlarge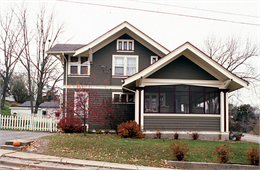 Daniel and Nellie Byrns House, 1915
Lodi, Wisconsin. This bungalow in Lodi is a fine example of residential architecture. View the property record: AHI 71501
Enlarge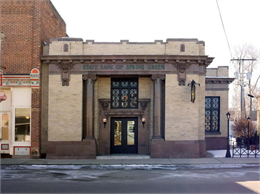 State Bank of Spring Green, 1915
Spring Green, Wisconsin. This building, formerly the State Bank of Spring Green, exemplifies commercial and urban structures. View the property record: National Register 10000463
Objectives
Students will:
Gain a better understanding of Wisconsin's local and community history.
Analyze basic nomenclature and identify building material components.
Complete a visual survey of four existing structures located in community.
Compare and contrast architectural details using photography and visual survey forms.
Explore resources using Internet, Web-based information.
Design and prepare a presentation about four chosen buildings and focused research about one.
Resource Materials
Procedures
Begin to discuss Wisconsin architectural history, specifically using the local community as example. Students can begin by searching the Society's Architecture and History Inventory. If possible, invite a speaker from the local historical society or historic preservation group to present chronological details of community and architectural history.
Have students, in teams, search The Walk Through-How to Read a Historic Building site and complete its on-line unit and quiz. Download and print the "Character Checklist" survey, or use the building analysis sheet for building detectives from Wisconsin's Built Environment.
Plan a walking field trip to downtown areas, residential neighborhoods, historical properties, historic main streets, or historic districts. Have students bring cameras (35mm, digital, Polaroid) to document particular architectural examples and façades. (To save classroom time, assign the photography as an after-school project.)
Break students into teams and assign them to choose four buildings of architectural interest and complete the survey forms for those buildings.
Choose one student to videotape the field trip for future class research, zooming in on various architectural details and building references.
Choose one student to map a walking tour of the trip, including street names, building numbers, and/or dates if found.
Each team will photograph the front, side, and rear façades of the four chosen buildings.
After returning to the classroom, reflect on and discuss the field trip.
Upon development or printing of photographs, each team will arrange the photos for each building, identify the buildings' map locations, and begin to list architectural characteristics, dates, building materials etc.
Each team chooses one building from the original four, and learns more about its history, inhabitants, changes through time, chronology, use, and its importance to the community or to Wisconsin as a cultural entity.
Each team designs a display about their buildings to present to the class. They could also present to related classes, local historical societies, or community groups.
The completed displays from these projects can be exhibited via school web site, downtown chamber of commerce, local business window display, or school hallway vignettes.
Bibliography/Links
Historic Preservation in Wisconsin: A Manual for Communities. (Madison: Wisconsin Historical Society), 1995.
Credit
Author: Rhonda L. Deeg, University of Wisconsin-Madison, Continuing and Vocational Education