Classroom Material
Passport Ready? Then Let the Adventure Begin
Enlarge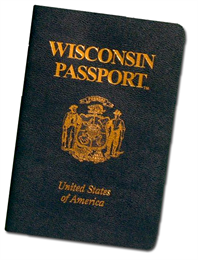 Wisconsin Passport.
This passport looks just like a real passport! It includes information about Wisconsin and state symbols. Available in the Wisconsin Historical Society's online store: SKU: 400003
Grade level: Elementary
Duration: More than one class period
Using an integrated approach with math skills, research skills, and videos, the student has a chance to catch the excitement of Wisconsin. By completing research about a historic site, the student receives a stamp and cancellation to verify the date he or she "visited" there. A state passport can be used both during the school year and during vacations to encourage students to visit the historical sites of Wisconsin.
Objectives
Students will:
Locate sites on a map using research and math skills
Recognize the natural beauty that belongs to the different geographic regions of the state
Develop a sense of appreciation for the heritage of our state
Background
In order to engender enthusiasm about Wisconsin, teacher Barbara Duke created a state passport, using National Parks Service Passport Stamps and materials as a model. The state passport, a booklet with outline maps or blank pages for stamps, is adaptable to any approach in Wisconsin instruction and uses resources that are easily available. Videos offer the visual information about a site that reading alone cannot provide. Students enjoy "traveling" around the state!
Procedures
Contact your local Cooperative Educational Services Agency to borrow videos.
Contact AAA to request several copies of the Wisconsin Tourbook.
Contact the Wisconsin Department of Tourism to request Wisconsin tourisim booklets, which have pictures that are the right size and an acceptable quality level.
Decide which sites students will travel to, based on your curriculum, the materials that you have collected, and your students' interest.
Develop activity pages and stamps for each site. A sample of activity questions appears below. To make the stamps, cut the pictures from the tourism magazines. Glue these pictures to a piece of paper and take that sheet to a copy shop, to produce one copy per student. Because the students will receive one stamp at a time, it is easier to cut the pictures and store them in separate envelopes.
The state passport can be organized by geographic regions like the National Park passport, or more like an actual passport for authenticity. The pages need only the name of each location, but a box for placing the stamp, and an outline map creates more interest. Desktop publishing software or actual cutting and pasting can create sharp-looking pages. The final Passport production steps involve laminating the covers and binding the booklet together.
Set up a student-accessible file with a file folder for each place that you want the students to visit. Students work at their own speed to complete the activity pages. They must, however, view the video to receive a stamp. By organizing the materials this way, teachers can be flexible with various student ability levels. This is a great way to use the classic Badger History books!
Students receive a picture stamp to rubber cement in the passport. The teacher can also add the date with a date stamp, which the school librarian might furnish.
At the end of the year inform students that they can take their Passports with them when they travel around the state and can add signatures, actual photos, or other souvenirs of their Wisconsin travels.
Sample Activity Sheet: Central Plain Octagon House
Hudson was known as Willow River back in 1840 when it was named by the fur traders, Peter Bouchea and Louis Massey. Later it became a center for steamboat and lumber traffic and eventually a railroad hub. The Octagon House was built in 1855.
What two state parks are closest to Hudson?
What river is located nearby?
Why would this be a good location for steamboat and lumber traffic?
Draw an octagon.
Why do you suppose an octagon-shaped house is a tourist site?
Credit
This teacher-submitted, elementary-level lesson plan appeared in Badger History Bulletin. Please adapt it to fit your students' needs. Author: Barbara Duke, North Crawford Schools, Soldiers Grove