Classroom Material
Putting Wisconsin's Stamp on History
Grade level: Elementary
Duration: One class period
Enlarge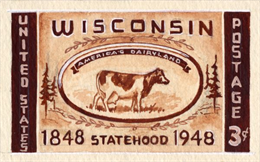 Wisconsin Postage Stamp Design, 1948
Designed by Leroy Pynn for the Milwaukee Philatelic Society: Centennial Stamp Design Contest, 1948. View the original source document: WHI 35733
A fourth-grade class developed this lesson plan.
Students are asked to determine important individuals and events in Wisconsin history to be featured on a postage stamp.
Students could use reference books for initial research and contact a local stamp collector for specific information about stamps.
Students were first encouraged to made their own decisions, then learned if the U.S. Post Office concurred. Students learned that there is no "right answer" when determining who or what is important; rather that their ability to support their choices is the goal.
Objectives
Students will:
Use secondary resources to identify and describe significant events and people in the history of Wisconsin and the United States
Rank the importance of the events and people in Wisconsin's and the nation's history and present their choices
Analyze artifacts
Procedures
Students collected a range of secondary sources-reference books, textbooks, and general interest books- about Wisconsin.
By both scanning the text and using the indexes of these books, they generated lists of names and events of importance that are connected to Wisconsin.
They identified those names and events that continually appeared.
Working in cooperative groups, students made a "Top Ten List" of the most important names and events.
When ranking the importance of people and events, each group had to justify their decisions: both in placing the person or event on the list and the assigned ranking.
To determine if their own judgments were similar to those of the U.S. Post Office, they used Scott's Postage Stamp Guide (an annual guide from Scott Publications) to learn if stamps of their top ten choices existed. Students also benefited from the input of a local stamp collector who was a resource throughout the project.
Students learned that at least half of the people that they chose were indeed, on postage stamps. They argued that both Harry Houdini and Black Hawk also deserve to be the subject of stamps.
Enhancements
Students can order stamps from the Post Office or from collectors and create a timeline with them, explaining the historical significance of each one. They can also communicate their state list to students in other states to see if there are names that occur on both lists. Building on this idea, different groups in the class can select a state or region of the country and build a display of stamps for that region.
Have students create a postage stamp of their own using a significant event in history. Students could find digital photos and use an online photo editing tool with a postage stamp picture frame edge to create their stamp. You could also use the U.S. Postal Office service to create and purchase photo stamps using student designs.
Bibliography/Links
United States Postal Service. Exploring the World of Stamps in Your Classroom: A Teacher's Guide to Stamp Collecting. Washington, DC: Government Printing Office, 1982.
Credit
This teacher-submitted, elementary-level lesson plan appeared in Badger History Bulletin. Please adapt it to fit your students' needs. This lesson stands alone, but it can also be used in or adapted to specific timeframes or themes. Author: Bernard Vanden Berk, Valley View Elementary School, Ashwaubenon.
Author: Bernard Vanden Berk, Valley View Elementary School, Ashwaubenon.