Classroom Material
Wartime Employment, Production, and Conservation
Wisconsin World War II Stories: The Home Front
Grade level: Secondary
Duration: One class period
Enlarge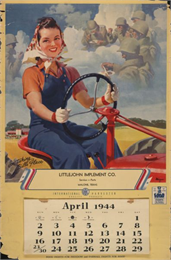 Wartime Calendar with Woman on Tractor, 1944
International Harvester calendar showing a woman driving a tractor with the image of soldiers eating in the clouds above. A caption reads 'I'm taking Bill's place.' View the original source document: WHI 37657
In the following activity, students will research wartime work, production, or conservation in their hometown. No matter what size the community, World War II would have had an impact on people's jobs, home life, and the economy. The lesson asks students to trace change over time by studying work role expectations in the United States before and after World War II. Gender and race considerations are important factors in this assignment.
In addition to or in place of the lessons above, students can learn more about wartime production in their own communities by completing a research assignment. The assignments below offer choices that ask students to think about individual and community commitments to the war effort, race and gender discrimination in employment, unionization efforts, and the impact of rationing and shortages on family and community life.
Objectives
Students will:
Develop research and questioning skills
Learn about wartime work, production, or conservation
Trace change over time
Background
Teachers will want to read the overview on home front production in Tracy Warm's article Wartime Production found in the Spring 2002 issue of the "OAH Magazine of History". This material can be used to introduce students to the activities that follow. Three wartime documents are included in the article with corresponding lessons on the subjects of:
transforming consumer goods production to military production
the link between increased production and patriotism
the response of government and business to increased demands for war production
The fourth video in this series recounts the varied stories of home front experience. Although textbooks generally include this previously understudied subject, too often the focus is quite narrow, leaving students with an incomplete picture of home front society. In contrast, Wisconsin WWII Stories: Home Front offers a wider history, incorporating both traditional and new themes.
Topics included are: the industrial employment of both women and men, the importance of wartime farm production, community interactions with enemy prisoners of war, the work of German POWs in the food production industry, the need for teachers and nurses at industrial plants, and the forced relocation of Japanese Americans. Information is also included about leisure time activities such as listening to records and the radio, going to films, and attending parties and dances helps students understand that social activities continue during wartime.
During World War II, men and women fell in love, got married, and had children. Hearing the stories of children who were born after their fathers went to war reminds students that wartime sacrifices are not limited to soldiers and adults. According to one witness, "183,000 children lost their fathers in World War II." These lessons show that the home front war included every aspect of American life.
The videos in this series and the coordinated lesson plans can be used in various ways. The lessons can be combined with part or whole use of the videotapes or online video clips, or the lessons can "stand alone." The five video series and lesson plans can constitute a complete World War II unit. Alternatively, any one component may be added as enrichment to an existing unit or program.
Resource Materials
Procedures
Have students work with a partner to develop one of the following choices:

an oral history and scrapbook of an individual in your community whose work during World War II contributed to the war effort at home
with the assistance of your teacher, community library, and older members of your community, find out what businesses or industries contributed in a significant way to the war. Create a history scrapbook for one business or industry.
a research paper on the subject of your community's economic involvement in the war effort
a short three-act play called "Honey, I'm Home: the American Worker," with Act I taking place during the Great Depression, Act II during World War II, and Act III in the years immediately following the war
the re-enactment of a scene from a wildcat strike that occurred in the United States during World War II

Students should consider the questions on the use the "Wartime Work Questions" handout to prepare their research. Make classroom time available for students to exhibit their findings or perform their play. If time permits, show the award-winning film, "The Life and Times of Rosie the Riveter" (1987; Direct Cinema; 65 minutes).
Enhancement
Listen to and view the "Any Bonds Today?" song lyrics and "Bugs Bunny" video found at The National Archives' Powers of Persuasion site. Then, create your own war bonds song and cartoon or video, trying to capture the spirit and style of 1940s war goals film production.
Using the lesson plan called "Rosie the Riveter Remembers," have students read the interviews and reflect on the questions provided, in order to host a classroom discussion.
Standards
National Standards for United States History: Exploring the American Experience
(National Center for History in the Schools, UCLA)
Era 8, Standard 3 - The causes and course of World War II, the character of the war at home and abroad, and its reshaping of the U.S. role in world affairs.
Standard 3C - Demonstrate understanding of the effects of World War II at home by
| GRADE LEVEL | THEREFORE, THE STUDENT IS ABLE TO |
| --- | --- |
| 5-12 | Explaining economic and military mobilization during World War II. |
| 7-12 | Evaluate how minorities organized to gain access to wartime jobs and how they confronted discrimination. |
| 5-12 | Evaluating the internment of Japanese Americans during the war. |
| 7-12 | Analyzing the effects of World War II on gender roles and the American family. |
| 9-12 | Evaluating the war's impact on U.S. culture and technology. |
Wisconsin's Model Academic Standards for Social Studies
Standard B - History: Time, Continuity, and Change
| REFERENCE NUMBER | BY THE END OF GRADE 12 STUDENTS WILL |
| --- | --- |
| B.12.1 | Explain different points of view on the same historical event, using data gathered from various sources, such as letters, journals, diaries, newspapers, government documents, and speeches. |
| B.12.2 | Analyze primary and secondary sources related to a historical question to evaluate their relevance, make comparisons, integrate new information with prior knowledge, and come to a reasoned conclusion. |
| B.12.4 | Assess the validity of different interpretations of significant historical events. |
| B.12.5 | Gather various types of historical evidence, including visual and quantitative data, to analyze issues of freedom and equality, liberty and order, region and nation, individual and community, law and conscience, diversity and civic duty; form a reasoned conclusion in the light of other possible conclusions; and develop a coherent argument in the light of other possible arguments. |
| B.12.6 | Select and analyze various documents that have influenced the legal, political, and constitutional heritage of the United States. |
| B.12.9 | Select significant changes caused by technology, industrialization, urbanization, and population growth, and analyze the effects of these changes in the United States and the world. |
| B.12.15 | Identify a historical or contemporary event in which a person was forced to take an ethical position, such as a decision to go to war…and explain the issues involved. |
| B.12.17 | Identify historical and current instances when national interests and global interests have seemed to be opposed and analyze the issues involved. |
| B.12.18 | Explain the history of…racial and ethnic discrimination and efforts to eliminate discrimination in the United States and elsewhere in the world. |
Credit
These lesson plans are designed to be used with Wisconsin World War II Stories: Part IV: Home Front, a video series created by Wisconsin Public Television and the Wisconsin Historical Society, in association with the Wisconsin Dept. of Veterans Affairs. The lessons in this part of Wisconsin World War II Stories span interest areas and levels. They include geography, technology, and human interest studies, and draw upon a wide array of social studies skills. Information on the series can be found at Wisconsin Stories:World War 2.
Author: Victoria Zuleger Straughn.